for KING & COUNTRY RELEASE NO.1 MOST ADDED NEW SINGLE "GOD ONLY KNOWS", MUSIC VIDEO SURPASSES 10M VIEWS
burn the ships | The 2019 World Tour Produces Multiple SOLD-OUT Shows on First Tour in Homeland of Australia
Two-time GRAMMY® award-winning duo for KING & COUNTRY just released their newest single, "God Only Knows," available now at all digital service providers at the link provided HERE. The track, featured on their latest full-length release burn the ships, serves as a message of hope to those feeling distressed. You can watch an exclusive clip of brothers Joel and Luke Smallbone discussing the "Story Behind the Song" at the link provided HERE.
The band reflects, "We've walked with those we love as they've battled through loneliness, we've heard your stories of great loss, and lately, we've seen several in the public eye take their own lives. In turn, we were compelled to write and portray an honest, yet hopeful, song for us all during difficult seasons."
for KING & COUNTRY recently took to social media to raise awareness for a few causes close to their heart, including human trafficking and suicide prevention. The response they have gotten since has been overwhelming. Fans from all over the world left comments describing their own experiences with depression and anxiety, crediting "God Only Knows" for helping them through some of the toughest times of their lives. You can view the moving music video, which just surpassed 10 million views, HERE.
2019 is shaping up to be a big year for the duo. "God Only Knows" has just debuted as the #1 most added song on Billboard Christian Airplay and Mediabase Christian Audience charts. For KING & COUNTRY is gearing up for their massive burn the ships | the 2019 world tour, which has already produced multipleSOLD-OUT shows in their homeland of Australia. They added second shows in Sydney, at the famed Sydney Opera House, Brisbane, and Melbourne. After touring Australia, the band will then make stops in Singapore, The Philippines, and the United States. For all dates, visit www.forkingandcountry.com.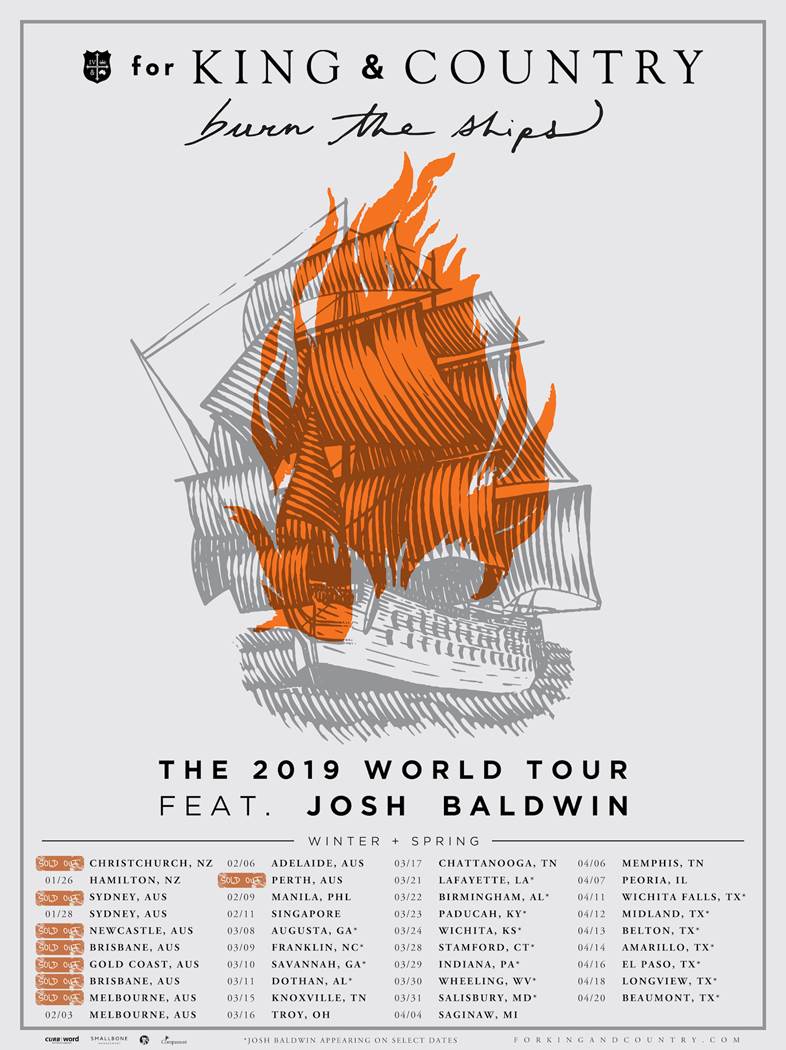 About for KING & COUNTRY
Two-time GRAMMY® award-winning Australian duo, for KING & COUNTRY, comprised of brothers Joel & Luke Smallbone, have just released their much anticipated third studio album, Burn the Ships, a sweeping musical landscape that explores themes of new beginnings, forgiveness, hope, and love. The album's soaring debut single, "joy," held the No. 1 spot for consecutive weeks, marking the group's highest debut on three Billboard charts. Their previous album, the gold-certified RUN WILD. LIVEFREE. LOVE STRONG., debuted at No. 1 on iTunes, and produced two GRAMMYs®, four Dove Awards, and a hugely successful 60-date arena tour. They have garnered four No. 1 hits, nine Top 10 hits, and had songs featured on the Emmys, Super Bowl, Sunday Night Football and other high-profile events, including performances on The Tonight Show, Today, and Jimmy Kimmel Live! In October 2016, the Smallbone brothers released the indie film inspired by their No. 1 hit of the same name, Priceless, about human trafficking.