STEVEN MALCOLM SURPRISES FANS BY DROPPING UNEXPECTED SINGLE FEATURING NATALIE GRANT TITLED "EVEN LOUDER"
BRINGS TALENT & GENRES TOGETHER IN EPIC WORSHIP / HIP-HOP ANTHEM AVAILABLE NOW
Critically acclaimed hip-hop artist Steven Malcolm has teamed up with award-winning powerhouse vocalist Natalie Grant with a surprise release of an epic anthem titled "Even Louder."  The song that merges music genres is available for purchase across all digital platforms worldwide.
"I really want to bridge the gap between worship and hip- hop. And show the world that worship isn't just one style, one genre, but a lifestyle that glorifies Jesus," explains Malcolm. "And working with Natalie was amazing. From touring with her on the Bible Tour to being able to have her be a part of this record is just humbling."
The collaboration came about organically; Grant had heard Malcolm perform the song when they were both on the Bible Tour. They quickly found Grant and Malcolm shared the same vision in making music that opens up people to different styles of music and share the same purpose.
"I love Christian music because it has so many different styles that appeal to so many different people, but we draw these hard and fast lines between music genres," says Grant. "And the thing that combines us and makes us unified is that we are all sharing the message of Christ. We need to start being a reflection of that unity and a way to do that is to blur the lines between our styles and I think it is a beautiful reflection of what the Body of Christ is supposed to be."
Malcolm co-wrote this new song with Leeland after hearing the original worship anthem from "The Church Will Sing" album written by Tony Brown, Jonathan Jay, Benji Cowart and Matt Armstrong. He wanted to create a worship song that reflected on the challenges of life such as anxiety and depression and how while everyone may go through the darker times, our praise should then become even louder.
Malcolm continues, "I wrote it with the mentality of, 'if people take everything away until I'm left with nothing, what will our response be? Will it be to curse God or will we lift our voices to Him and begin to worship louder than ever before."
"In Psalm 59 it says 'I will sing loudly to the Lord because He is my strength,'" shares Grant. " I interpret that as the louder I sing the more of His strength I will experience and that is what praise and worship is to me. Praising God doesn't make your problems disappear, if shifts your perspective from your problems to the solution of Christ."
Malcolm released his full length album The Second City earlier this year and it debuted to critical acclaim from CCM Magazine, Jesus Freak Hideout, New Release Today, Rapzilla and more.  For more information on Steven Malcolm and "Even Louder", please visit www.stevenmalcolm.com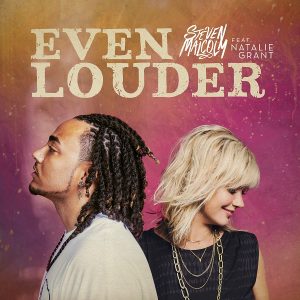 Track Listing
1. Even Louder (feat. Natalie Grant)

The Second City
Track Listing
1. Not To Us/Good Love (feat. Taylor Hill & Anderson Michael)
2. Watch
3. Rodeo (feat. Taylor Hill)
4. Fadeaway (Ft. Zauntee)
5. The Second City
6. Fuego (Ft Anderson Michael)
7. On Ten
8. Been There
9. Even Louder (Ft. Leeland)
10. The Beauty Of Dreams
11. On The Move
12. Devil Is A Liar
13. Heart Of A David
14. Overflow (feat. Stars Go Dim)
15. Redemption Song