ROSEVILLE, Calif. – Mike Curb's name is commonplace in many forms of auto racing – from sprint cars to Indy cars and at various levels of NASCAR. His involvement in racing can be traced back more than 40 years – covering a vast background in motorsports, with championships in various forms of racing and at multiple levels.
While auto racing sparked his early interest as a youngster, his involvement began with sprint car racing in the 1970s and that led to NASCAR.
"I've been following racing since I was a young boy in California," Curb said. "I got involved in motorsports in the 70s with JC Agajanian and the California Racing Association through sponsorships that led to meeting with Les Richter and Bill France Jr. at Riverside Speedway back in 1979, when I was the Grand Marshal for the Riverside NASCAR race."
At the time, Curb was the Lieutenant Governor of California and acting governor.
"Les and Bill advised me that Dale Earnhardt was only going to run a partial schedule and asked me if I would be willing to provide sponsorships that would lead to the possibility of ownership in Dale Earnhardt's team," Curb said.
Earnhardt went on to win his first NASCAR Winston Cup Series championship in 1980, driving the Mike Curb Productions-sponsored car to Victory Lane in five events during the season.
Later in the 1980s, Curb took on the role of a car owner in the series with Richard Petty as the driver. It was during that time that "The King" scored his 200th victory, with a win at Daytona International Speedway in July of 1984.
"My term as Lieutenant Governor and Acting Governor had ended at that time and I was working with President Reagan as Chairman of the RNFC in Washington, D.C.," Curb recalled. "I was able to play a major role with Bill France Jr. to bring President Reagan to Daytona for the July 4th race."
Reagan was the first sitting president to attend a NASCAR race.
Curb's involvement in NASCAR continued to evolve through the years. In addition to his role as a car owner in NASCAR's premier division, he was the registered car owner for numerous drivers in the NASCAR XFINITY Series between 1998 to 2013; and for several drivers in the NASCAR Gander Outdoors Truck Series – including being the listed owner for the current points-leading No. 98 ThorSport/Curb truck driven by Grant Enfinger. Johnny Sauter drove that truck to 10 national victories, including Daytona.
Curb has been a part owner for two Indianapolis 500 victories, five World of Outlaws championships, and 12 USAC championships; in addition to having scored victories in all 10 of NASCAR's domestic divisions.
He has worked with various racing partners through the years. His involvement included his racing team, initially known as Curb Racing, and then Curb Agajanian Performance Group, through his partnership with Cary Agajanian.
Along the way, he also developed an interest in the NASCAR K&N Pro Series, becoming affiliated with teams and drivers in the series.
"I've been following the K&N Series since I was very young, back when it was called the Winston West Series," Curb said. "In 2008, Ken Clapp suggested that I talk to Bill France Jr. regarding getting involved in the developmental series."
That involvement has included the NASCAR K&N Pro Series West, as well as the NASCAR K&N Pro Series East. Drivers competing in the K&N East who were affiliated with Curb during the past 10 years have included Kevin Swindell, Chad Boat, Tyler Reddick, Cameron Hayley, Rico Abreu, and Dylan Kwasniewski – in 2013 when he won the K&N East title.
A big part of Curb's involvement in the K&N West, meanwhile, has been with Bill McAnally Racing – winner of a record eight series championships. Since 2009, Curb has been the registered car owner on BMR cars driven by Paulie Harraka, Brandon McReynolds, Julia Landauer and Todd Gilliland.
"Ken and Bill recommended that Cary Agajanian and I work with Bill McAnally," Curb said. "That was a good decision because the only way to win championships consistently in the K&N Series is to be partnered with Bill McAnally. Bill has a lot of talent and consistently inspires his team and his drivers.
"He represents his co-entrants and his sponsors in a very positive way, and we have been so fortunate to have been working with him for over a decade," Curb said.
Curb's involvement with BMR and having Curb Records on the quarter-panel of BMR's NAPA Toyota has a special meaning to McAnally.
"Mike Curb has contributed greatly to our sport and continues to be involved throughout the industry," McAnally said. "We can't thank him enough for all that he's done. It's a great honor to have him involved with the BMR team."
This season, Curb is listed as the car owner of BMR's No. 16 NAPA AUTO PARTS Toyota Camry driven by Derek Kraus. The 17-year-old NASCAR Next driver leads the championship standings of the K&N East and is atop the K&N West standings, as well.
The possibility of being part of the first team to win both championships in the same season has a special appeal to Curb.
"It's exciting to even think about even having the opportunity to win the K&N East and West Championships this year," he said.
BMR nearly won both championships two years ago, with Todd Gilliland behind the wheel. Gilliland captured his second consecutive K&N West title in 2017, but came up just short in also taking the K&N East championship that year.
"To bring home both the NASCAR K&N East and NASCAR K&N West Championships this season would be an honor for all that give so much effort – our team members, employees, sponsors/partners and fans," McAnally said. "So many great people make these rewarding opportunities possible. Our biggest asset to success is the people involved and their support, effort, care and drive to be the best – the qualities of Mike Curb and Curb Records."
Photo Above:  (From left): Mike Curb, Mike Rearden – NAPA Director of Events/Sponsorships, Bill McAnally, Dan Askey, President of NAPA and Todd Gilliland. (Photo: BMR)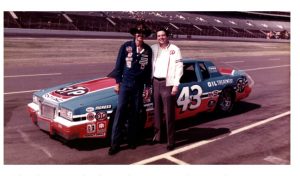 Richard Petty and Mike Curb. Petty won his 200th career race at Daytona in the Curb-owned car. (Photo: BMR)
BILL MCANALLY RACING TEAM RELEASE July 23, 201