Fresh off the announcement of their upcoming debut on the CMA stage, two-time GRAMMY® Award winners for KING & COUNTRY are honored to reveal their first ever American Music Award® nomination. The "2019 American Music Awards" will broadcast live on ABC from the Microsoft Theater in Los Angeles on Sunday, November 24 at 8:00 p.m. ET on ABC.
Joel Smallbone reflects, "Coming from two Australian immigrants who love this country and its music, somehow this 'American Music Award,' which is our first ever I might add, feels like yet another 'welcome home!'"
Voting is now open for all AMA categories. Fans can access the official voting ballot for the AMAs directly by visiting goo.gle/AMAsVote or by going to Google.com and using the search terms "AMAs Vote" or "[Nominee Name] AMAs Vote." Fans can submit up to 30 votes per category per day per Google account while voting is open. Voting will close on Wednesday, November 20, 2019 at 11:59:59 p.m. PT.
for KING & COUNTRY are set to join nine-time CMA Award winner and world-renowned entertainer Dolly Parton to perform their massive No. 1 hit "God Only Knows" at "The 53rd Annual CMA Awards." Country Music's Biggest Night™ will be hosted by Dolly along with Reba McEntire and Carrie Underwood, and will air live from Bridgestone Arena in Nashville, Wednesday, Nov. 13 at 8/7c on the ABC Television Network.
for KING & COUNTRY's unprecedented collaboration with Dolly Parton on "God Only Knows" has achieved 90 million on-demand streams. The music video reached No. 1 on iTunes across all genres, and the remarkable video featuring the country music legend has been viewed over 5 million times. You can watch it HERE.
For more information on "The 53rd Annual CMA Awards," please visit CMAawards.com and follow CMA on Facebook, Instagram, and Twitter.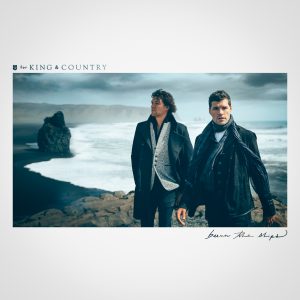 Track Listing
1. Introit
2. joy.
3. God Only Knows
4. Amen
5. Burn The Ships
6. Fight On, Fighter
7. Need You More
8. Control
9. Never Give Up
10. Hold Her
11. Pioneers (feat. Moriah & Courtney)