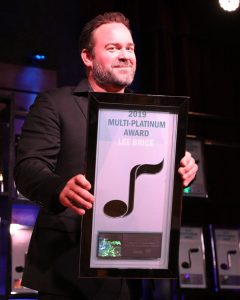 Photo Credit: Moser Photography
(Nashville, TN – October 24, 2019) Yesterday evening, Country music star Lee Brice was honored by the National Music Publishers' Association (NMPA) during their annual Gold & Platinum Gala at City Winery Nashville. The NMPA Gold & Platinum Program honors the songwriters of RIAA-certified singles and over 65 Gold, Platinum and Multi-Platinum honorees.
Brice was recognized for his RIAA-certified singles, "Crazy Girl" (Multi-Platinum) and "That Don't Sound Like You" (Platinum.)
The honored writers and publishers represent the certified top performing hits of the past year and many of their songs will continue to climb to higher certifications in the years to come.
Launched in 2007, in partnership with the RIAA's Gold & Platinum Program, the NMPA Gold & Platinum Program identifies and certifies the songwriters and publishers of RIAA-certified singles. RIAA counts both sales and on-demand streams towards its Gold (500K), Platinum (1M) and Multi-Platinum (2M+) thresholds.
Currently, Brice is featured on "I Hope You're Happy Now," a duet with fellow chart-topper, Carly Pearce, available now on all streaming and download platforms.
For additional information on upcoming shows and all things Lee Brice, please visit:
ABOUT LEE BRICE: 
When Lee Brice isn't selling out arenas, writing and recording songs, or building new brands like American Born whiskey, you'll find the family man with his wife Sara, two young boys, and baby daughter. Meanwhile, with more than 14 million in RIAA-certified sales and streams, and nearing three billion spins on Pandora, Brice continues to enjoy massive success at country radio, digital streaming services, and on the road. One of the most-played country artists of all time on Pandora, he was inducted into the company's "Billionaires Club" on June 8, 2018, becoming only the second country artist behind Keith Urban to receive the Pandora Billionaire plaque. Lee is also a GRAMMY nominee, a CMA nominee and a double ACM award winner, and he's taken six radio singles to Number One: "A Woman Like You," "Hard To Love," "I Drive Your Truck," "I Don't Dance," "Drinking Class," and "Rumor." Garth Brooks, Jason Aldean, Kenny Chesney and others have recorded his songs, and he's performed on numerous TV shows, including NBC's Today, ABC's The Bachelor, NBC's The Voice and FOX's Miss USA 2018. Lee's "Rumor" is the current single from his fourth studio album, Lee Brice, released November 3, 2017 on Curb Records. The RIAA Certified Platinum single, is Lee's sixth number one hit appearing in the top spot on the Billboard, Mediabase Country Radio, and SiriusXM's "The Highway" Top 30 charts. It has also surpassed 280 million on demand audio & video streams in the U.S. with over 300 million worldwide.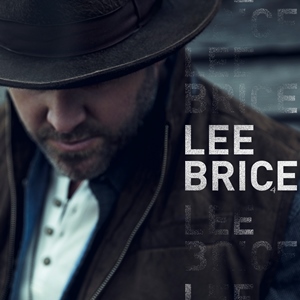 Track Listing
1. What Keeps You Up At Night
2. Little Things
3. American Nights
4. Boy
5. They Won't Forget About Us
6. I Don't Smoke
7. You Can't Help Who You Love
8. Rumor
9. The Locals
10. Songs In The Kitchen
11. Story To Tell (Little Bird)
12. Have A Good Day
13. Eyes Closed
14. Dixie Highway
15. The Best Part Of Me