Tickets In High Demand As Fans Show Their Excitement For Live Tour
Curb | Word Entertainment artist Sidewalk Prophets announces their unparalleled "virtual tour" live stream in anticipation of their The Things That Got Us Here album release. Originally set to release May 22, 2020, The Things That Got Us Here will now be released July 3, 2020 due to COVID-19 concerns.
 Pioneering what a virtual live event looks like, the show will include 3D elements in which viewers will need 3D glasses, while still enjoying the show without them, and a complete high definition multimedia experience, setting new expectations for live show creativity. Every show will be live, giving the same unique show-to-show experience as a live tour would.
"The past several weeks have been scary and uncertain for many of us, but we believe great things will come from these experiences. Now, more than ever, we need to be proactively pushing back against fear, anxiety, and worry," shares Sidewalk Prophets front man Dave Frey. "The best way we know how to do that is by using the God-given gift of creativity. We're excited to creatively deliver a brand-new album, a brand-new type of tour, and most importantly, a message of hope during this time!"
Partnering with Thrivent, a member owned financial services organization that serves Christians and their families, fans will be excited to hear there is no charge to watch the virtual tour, they just need to register for a ticket, with only one ticket per household being needed. "We'd like to thank Thrivent for partnering with us on this virtual 3D journey as we blaze a trail in reaching out to all our fans," shares the band's manager, Benjamin McDonald.
The tour will utilize a new radius checking system that will grant ticket access to those who live within zip code radius of each show in each market. Those who are outside the show radius will have the chance to purchase an "out-of-radius" pass or a season pass to view all live stream events. A VIP Preshow Party ticket option is also available and includes an interactive experience with the band before the show, as well as a limited edition signed poster. All shows will take place at 7:00 PM local time. Tickets became available via sidewalkprophets.com starting at 8:00 PM CST on Thursday, May 7, 2020. Exclusive tour merchandise will also be available in the "virtual lobby" before and after the show.
As previously announced, the band rescheduled their sold-out headlining debut at Nashville's historic Ryman Auditorium, originally scheduled for March 22, 2020. The "Great Big Family Reunion" was rescheduled for July 5, 2020. All tickets will be honored at the new date. If fans previously registered for the event via Ticketmaster's  Verified Fan platform and can no longer attend, they should log in to their Ticketmaster account to return/cancel their complimentary ticket so that any unused tickets can be claimed by other fans.
For more information, visit www.sidewalkprophets.com.
Upcoming Sidewak Prophets "Virtual Tour" Dates:
June 10 – Denver, CO
June 11 – San Antonio, TX
June 12 – Dallas, TX
June 13 – New York, NY
June 17 – Los Angeles, CA
June 18 – Phoenix, AZ
June 19 – Albuquerque. NM
June 20 – Chicago, IL
June 24 – Atlanta, GA
June 25 – Tampa, FL
June 26 – St Louis, MO
June 27 – Honolulu, HI
*All dates and cities subject to change.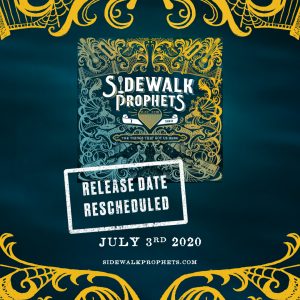 The Things That Got Us Here
Track Listing
1. Intro (Smile)
2. Smile
3. Chosen
4. Where Forgiveness Is
5. Real To Me
6. Don't You Think It's Time
7. You Were There
8. I Believe It Now
9. Let Go Your Troubles
10. There's A Way
11. Thank you Jesus
12. Don't Sweat It
13. The Comment Section
14. The Light
15. Smile (Single Mix)
About Sidewalk Prophets:
With a career spanning three major label studio releases—These Simple Truths (2009), Live Like That (2012) and Something Different (2015), plus 2013's celebrated holiday offering, Merry Christmas To You—and multiple hits, including Gold-certified "The Words I Would Say," "You Love Me Anyway" and "Live Like That," among others, Sidewalk Prophets remains a mainstay at Christian radio. The Dove Award-winning band has sold more than 740,000 albums and 1.8 million digital tracks. In addition, the group has garnered five No. 1 songs, nine Top 5 radio singles and more than 43 million views on YouTube. The band originally formed at Indiana's Anderson University, and since signing with Curb | Word Entertainment, they've been nominated for a Billboard Music Award, multiple K-LOVE Fan Awards and four Dove Awards, taking home the New Artist of the Year Dove in 2010. Over the course of their career, they've played for more than 2.5 million fans, and counting. Known for spending more days on the road than anywhere else, Sidewalk Prophets' most recent tours have morphed into interactive experiences for their fans, whom they affectionately call "The Great Big Family." The band is set to host the first free public concert in Ryman history on July 5, 2020, celebrating new music from their highly-anticipated album, The Things That Got Us Here, releasing July 3, 2020.
About Curb | Word Entertainment:
In 2016, Curb Records acquired Word Entertainment, combining two of the music industry's most respected brands, and more than a century of collective experience. Today, Curb and Word are two of the world's leading independent music companies. Owned and operated by Mike Curb, the Curb | Word family includes the labels Curb, Word, Squint, Fervent, Sidewalk, and IVAV, as well as Curb Publishing, Word Publishing, 25 Live, Curb Films, Word Films, Word Entertainment, and Curb Sports, representing top artists and entertainers in Country, Christian, Pop, Rock, and Hip-Hop.