Show Will Now Be Livestream-Only Due To COVID-19 Concerns
Sidewalk Prophets has turned its historic sold-out Ryman concert into a livestream-only event. Originally, the band invited their "Great Big Family" to experience the gift of an exclusive free album preview and live performance at one of Nashville's most revered venues, but have made the event livestream-only due to social distancing rules and COVID-19 concerns. The show will stream via Facebook Live on July 9, 2020 at 7 PM CST.
Though the plans for a live show have changed, the band is excited to have the opportunity to share this night with even more fans, as the livestream will allow those from all over the world to join in this once-in-a-lifetime experience. "We worked so hard on this event and were ready to have one of the most exciting nights of our career and then the pandemic hit and changed everything," shares Sidewalk Prophets front man Dave Frey. "While we're disappointed that we won't be able to have a live audience for this show, we're excited to share our first visit to historic Ryman Auditorium with fans from all over the world. We truly are a great big family, and we can't wait to share our new album with everyone from the historic Ryman stage."
During the sold-out show, fans will hear the entire The Things That Got Us Here album, releasing July 3, 2020, as well as get backstage access with the band. The show will be presented by Way-FM and Children International, a leading humanitarian organization focused on helping children break the cycle of poverty.
For more information, visit www.sidewalkprophets.com.
About Sidewalk Prophets:
With a career spanning three major label studio releases—These Simple Truths (2009), Live Like That (2012) and Something Different (2015), plus 2013's celebrated holiday offering, Merry Christmas To You—and multiple hits, including Gold-certified "The Words I Would Say," "You Love Me Anyway" and "Live Like That," among others, Sidewalk Prophets remains a mainstay at Christian radio. The Dove Award-winning band has sold more than 740,000 albums and 1.8 million digital tracks. In addition, the group has garnered five No. 1 songs, nine Top 5 radio singles and more than 43 million views on YouTube. The band originally formed at Indiana's Anderson University, and since signing with Curb | Word Entertainment, they've been nominated for a Billboard Music Award, multiple K-LOVE Fan Awards and four Dove Awards, taking home the New Artist of the Year Dove in 2010. Over the course of their career, they've played for more than 2.5 million fans, and counting. Known for spending more days on the road than anywhere else, Sidewalk Prophets' most recent tours have morphed into interactive experiences for their fans, whom they affectionately call "The Great Big Family." The band is set to host the first free public concert in Ryman history on July 5, 2020, celebrating new music from their highly-anticipated album, The Things That Got Us Here, releasing July 3, 2020.
About Children International:
Children International, based in Kansas City, Missouri, is a global non profit humanitarian organization working to help end the cycle of generational poverty. Through a long-term, customized approach, Children International supports children and youth for the first two decades of their lives, providing access to information and inspiration in the areas of health, education, empowerment through life skills, and employment. When equipped to transform their own lives, young people also transform their families and communities, and as a result, multiply good in the world. For more information, go to www.children.org.
About Curb | Word Entertainment:
In 2016, Curb Records acquired Word Entertainment, combining two of the music industry's most respected brands, and more than a century of collective experience. Today, Curb and Word are two of the world's leading independent music companies. Owned and operated by Mike Curb, the Curb | Word family includes the labels Curb, Word, Squint, Fervent, Sidewalk, and IVAV, as well as Curb Publishing, Word Publishing, 25 Live, Curb Films, Word Films, Word Entertainment, and Curb Sports, representing top artists and entertainers in Country, Christian, Pop, Rock, and Hip-Hop.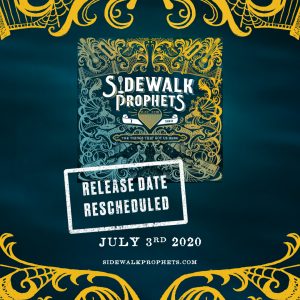 The Things That Got Us Here
Track Listing
1. Intro (Smile)
2. Smile
3. Chosen
4. Where Forgiveness Is
5. Real To Me
6. Don't You Think It's Time
7. You Were There
8. I Believe It Now
9. Let Go Your Troubles
10. There's A Way
11. Thank you Jesus
12. Don't Sweat It
13. The Comment Section
14. The Light
15. Smile (Single Mix)