DUO WILL RETURN TO HISTORIC GRAND OLE OPRY HOUSE  IN CHRISTMAS 2021
Nashville, TENN. – On Tuesday, December 15th, four-time GRAMMY Award-winning duo and Curb | Word Entertainment recording artist for KING & COUNTRY held the "Drummer Boy Christmas – Live in Concert" streaming event. The spectacle garnered over ONE MILLION views since airdate and featured incredible performances from mountaintops, special guest appearances, and exclusive stories told by the duo to help lead the holiday season in. To get a sense of the breathtaking event and to see the night's biggest moments, check out the highlight reel here.
If you'd like to watch "Drummer Boy Christmas – Live in Concert" in its entirety, the stream is available here.
Following a sterling performance that brought the Christmas spirit straight to Nashville's Grand Ole Opry House, for KING & COUNTRY have been asked to return to the historic venue in midwinter 2021. for KING & COUNTRY – Christmas at the Opry House will offer a holiday marvel to concertgoers for a second year in a row, with intricate set designs and powerful performances in store. Tickets are on sale TODAY, for more information click here.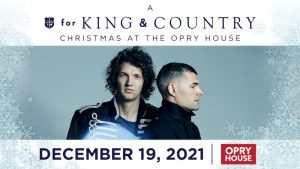 A Drummer Boy Christmas – for KING & COUNTRY's first Christmas album – has become a staple during the 2020 holiday season, evidenced by the duo's upcoming performance on ABC's Good Morning America on Christmas Day. The album has reached No. 2 on the Billboard Top Holiday Albums Chart, currently sits at No. 1 on the iTunes Top Holiday Albums Chart, as well as No. 1 on the Amazon Best Sellers – Holiday Albums Chart. Listen to A Drummer Boy Christmas here.
for KING & COUNTRY are in the home stretch of the wildly successful A Drummer Boy Drive-In: The Christmas Tour, finishing up the tour on December 20th in Pensacola, FL. Teaming up with The Salvation Army and their Rescue Christmas initiative, concert goers brought new, unwrapped toys that were collected by local Salvation Army representatives. Thus far, there has been an average of 200 gifts donated per show that will be sent to children in need during the holidays. A Drummer Boy Drive-In has SOLD OUT 16 dates, selling over 11,000 car tickets throughout the tour.
A Drummer Boy Drive-In: The Christmas
Remaining Tour Dates
12/18 – Central Florida Fair – Orlando, FL (SOLD OUT)
12/19 – South Florida Fair – West Palm Beach, FL (SOLD OUT)
12/20 – 5 Flags Speedway – Pensacola, FL
About for KING & COUNTRY
Four-time GRAMMY® award-winning pop duo for KING & COUNTRY, comprised of brothers Joel & Luke Smallbone, have garnered seven No. 1 hits, ten Top 10 hits, four GRAMMY Awards, seven GMA Dove Awards, one Billboard Music Award, and two American Music Award nominations. The duo has evolved into a worldwide phenomenon, crafting songs that celebrate all aspects of the human condition – faith, hope, loss, adversity, and the strength of unity in times of hardship. Their multi-week No. 1 hit "TOGETHER" (feat. Kirk Franklin and Tori Kelly) released earlier this year is evidence of that, while the 11-week No. 1 hit "God Only Knows" has become a beacon of hope for folks around the world. The duo's burn the ships | world tour SOLD-OUT over 40 shows across the world including USA, Australia, Germany, Netherlands, and New Zealand. Currently, Joel and Luke are on the road supporting their first Christmas album A Drummer Boy Christmas and can be seen on A Drummer Boy Drive-In: The Christmas Tour supporting The Salvation Army. for KING & COUNTRY has accumulated over one billion career on-demand streams to date.
About Curb | Word Entertainment
In 2016, Curb Records acquired Word Entertainment, combining two of the music industry's most respected brands, and more than a century of collective experience. Today, Curb and Word are two of the world's leading independent music companies. Owned and operated by Mike Curb, the Curb | Word family includes the labels Curb, Word, Squint, Fervent, Sidewalk, MCC and IVAV, as well as Curb Publishing, Word Publishing, 25 Live, Curb Films, Word Films, Word Entertainment, and Curb Sports, representing top artists and entertainers in Country, Christian, Pop, Rock, and Hip-Hop. For more information, visit www.curb.com.