Curb | Word Entertainment artist Dan Bremnes is grateful for the purpose in the pain on new song, "Wouldn't Change A Thing," available today (12/3).
On "Wouldn't Change A Thing," Bremnes reasons that life might not be easy, and we might not always be able to change the direction it takes us, but it doesn't mean we won't end up exactly where we're meant to be. Along with co-writer Jimmy James, the award-winning songwriter unveils a glass-half-full perspective served sunny side up on the pop offering produced by Mike Wise (Alessia Cara, Ellie Goulding). "There are so many things we'd all change about the past or shape about our future," Bremnes says of the sentiment behind the fresh release. "Some things come together, some fall apart. This song is about embracing the journey; living our lives as if we chose them."
The Canadian-born singer has done just that, having visited 26 countries around the globe so far. One of his latest adventures was documented in his recent song, "Run Away With Me," which he penned with former Tenth Avenue North front man Mike Donehey and Justin Amundrud. The world traveler and his wife, Britt, escaped to an island getaway of their dreams in a stunning music video for the romantic track, filmed safely on a private island in Belize during the pandemic. Catch a glimpse of their tropical paradise and more of the incredible story behind their unexpected trip HERE, captured by videographer Jon Steingard.
Both "Run Away With Me" and "Wouldn't Change A Thing" are a precursor to more music coming from Bremnes soon, leading up to a new studio record expected in 2022.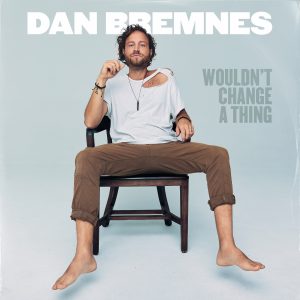 Stream or purchase "Wouldn't Change A Thing" HERE.
For more information, visit www.danbremnes.com.
About Dan Bremnes:
Dan Bremnes is an award-winning singer/songwriter, and Curb | Word Entertainment recording artist, hailing from Salmon Arm, British Columbia, Canada and currently residing in Nashville. His music career commenced in 2010, with his album, Your Strength, that was independently released. He then released two independent singles, "Hear Your Voice" in 2012 and "After All" in 2013. During this time, Bremnes released an extended play, Light My Way, which was independently released on September 25, 2012. The extended play and singles got him Covenant Awards at the 35th Annual Awards in 2013 for Male Vocalist of the Year and Music Video of the Year for "This Life." The subsequent year, Bremnes was awarded at the 36th Annual Awards for having the Pop/Contemporary Song of the Year and Recorded Song of the Year for "Beautiful," where he received the Male Vocalist of the Year along with Artist of the Year. He signed to Sparrow Records / Capitol CMG, where he released another single, "Beautiful," in 2014, along with an extended play on April 14, 2015, Where the Light Is. The song, "Beautiful," charted at a peak of No. 17 on the Billboard magazine Christian Songs chart. Bremnes is now signed to Curb | Word Entertainment.
About Curb | Word Entertainment:
In 2016, Curb Records acquired Word Entertainment, combining two of the music industry's most respected global brands, and more than a century of collective experience. Today, Curb and Word are two of the world's leading independent music companies. Owned and operated by Mike Curb, the Curb | Word family includes the labels Curb, Word, Squint, Fervent, Sidewalk, MCC and IVAV, as well as Curb Publishing, Word Publishing, 25 Live, Curb Films, Word Films, Word Entertainment, and Curb Sports, representing top artists and entertainers in Country, Christian, Pop, Rock, and Hip-Hop. For more information, visit www.curb.com.