Singer/Songwriter Mallary Hope "Delivers" with "Uplifting and Encouraging" Out Of My Hands, Available Now
Singer/songwriter Mallary Hope's debut full-length project, Out Of My Hands, released today to critical acclaim. Hope's first-ever full-length project, the album sees the songstress in her rawest form, with themes of identity and self-worth woven throughout each song.
Called "impressive…boasting many immediate hits and inviting anthems" by The Christian Beat, Hallels lauds "Mallary Hope's Out of My Hands is the type of album you want to turn out loud as you coast along for a day trip on a cool summer's day.  The songs are as bright as the glaring sun."
Referred to as a "masterful…project from start to finish that brings artist and message together in an astonishing way," by Worship Leader Magazine, "From start to finish, Out Of My Hands features an inspiring collection of songs about letting go of the control that we try to have over our lives and instead relying on God to follow through with what His Word promises He will do," praises Today's Christian Entertainment.
The album is home to Hope's hit track, "Me," which Hope performed LIVE on Fox & Friends this past Easter Sunday. Inspired by the singer's own desire to abandon the notion of perfection, the empowering anthem has garnered over one million combined views and streams since its release and continues to resonate with listeners.
About Mallary Hope:

Singer/songwriter Mallary Hope is a Georgia native who began her career writing songs for some of the biggest names in country music including Faith Hill, Lauren Alaina, Danny Gokey and Jana Kramer. It was during her first pregnancy that Mallary had a catalytic moment and felt a calling to use her gifts and her own voice to tell others about God's love. Since then, she has sung her songs for thousands, sharing the stage with some of the biggest names in Christian Music on the Winter Jam Tour this past year.
Hope's latest, Out Of My Hands is available now.
Get Connected to Mallary Hope:

Facebook: https://www.facebook.com/mallaryhopemusic/
Instagram: @mallary_hope
Twitter: @mallaryhope
Website: http://oktobe.me
FOX NEWS LIVE PERFORMANCE:
https://video.foxnews.com/v/6029909830001/#sp=show-clips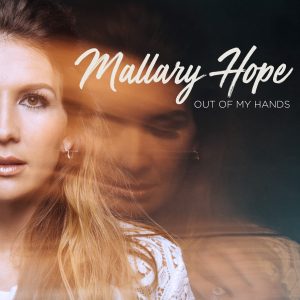 Track Listing
1. You Will Make A Way
2. Looking Back At Me
3. 3:16 (No Greater Love)
4. Pray With You
5. Walking With The Light
6. Me
7. Out Of My Hands
8. Lay It Down
9. Love More
10. Home To The Water
11. Now
12. My Love
13. My God
14. Yours
15. Saving Me
16. Lay It Down (Acoustic)
17. My God (Radio Version)