GRAMMY-WINNING DUO for KING & COUNTRY TEAMS UP WITH ECHOSMITH AND TIMBALAND FOR NEW REMIX OF THEIR MULTI-WEEK NO. 1 HIT "GOD ONLY KNOWS"
Two-time GRAMMY award winning duo for KING & COUNTRY released a dynamic remix today of their smash hit "God Only Knows," featuring Sydney Sierota of multi-plantinum alt-pop trio Echosmith and award-winning producer Timbaland. Sydney's sultry and emotive vocals weave effortlessly throughout Timbaland's rhythmic and melodic sheen, sending the Australian duo's longest charting Billboard hit into the stratosphere. You can listen to the remix HERE.
About her involvement in the new remix, Sydney Sierota of Echosmith expresses, "When the idea was brought up to me, I immediately said 'I'll sing on that tomorrow, I love the song that much!'  'God Only Knows' is such a special song, and I think we all constantly need the reminder that there's a God who knows and loves us. We aren't doing this alone. There's so much love and meaning in the lyrics, and I'm honored that I get to be a part of it."
Commemorating this special release, for KING & COUNTRY and Echosmith have premiered a music video for the remix. Watch the video HERE.
"God Only Knows" recently won "Song of the Year" honors at the K-LOVE awards, is currently at its ninth week at No. 1 on the Billboard Christian Airplay chart, and ten weeks leading the Mediabase Christian Audience chart. Additionally, the song hit Top 30 on Mediabase and Billboard's Hot AC charts while garnering 202 million radio impressions and over 25 million streams across all digital platforms. The gripping music video for "God Only Knows" has been viewed over 24 million times, watch the original music video HERE.
for KING & COUNTRY recently announced the burn the ships | world tour: North America, which will see the duo bring the bow of the proverbial "ship" to life with a thrilling new stage and lighting setup. They have sold out 22 shows on their burn the ships | world tour thus far, and you can purchase your tickets HERE.
Echosmith recently released their empowering Top 40 radio single and Top 10 Billboard Dance Chart hit "Favorite Sound" with Audien, about letting go of the negative voices in our heads and overcoming things like self-doubt and anxiety. Echosmith is gearing up for a big 2019 with more news coming soon.
About for KING & COUNTRY
Two-time GRAMMY® award-winning Australian duo for KING & COUNTRY is comprised of brothers Joel & Luke Smallbone. October 2018 saw the release of their much anticipated third studio album burn the ships, which debuted at #7 on the Billboard Top 200 Albums chart. The album's soaring GRAMMY® nominated debut single, "joy," held the No. 1 spot for four consecutive weeks, marking the group's highest debut on three Billboard charts. Their current single, "God Only Knows" has reached #1 on the Billboard Audience chart and has accumulated close to 50 million global on-demand streams, increasing the duo's career on demand streams to 594 million. To kick off 2019, Joel & Luke launched Part I of their burn the ships | world tour, performing in their Australian homeland for the first time and selling out every show, including the iconic Sydney Opera House. Their previous album, the gold-certified RUN WILD. LIVE FREE. LOVE STRONG. debuted at No. 1 on iTunes, and produced two GRAMMYs®, four Dove Awards, a successful 60-date arena tour, and a world tour that has so far produced 22 sold out dates. They have garnered five No. 1 hits, nine Top 10 hits, and had songs featured on the Emmys, Super Bowl, Sunday Night Football and other high-profile events, including performances on The Tonight Show, Today Show, and Jimmy Kimmel Live! In October 2016, the Smallbone brothers released the indie film inspired by their No. 1 hit of the same name, Priceless, about human trafficking.
About Echosmith
Echosmith – Sydney (lead vocals/keyboard), Noah (vocals/bass), and Graham Sierota (drums) –first showcased their melodic, New Wave-influenced sound with their triple-platinum hit, "Cool Kids," which notched a quarter-of-a-billion Spotify streams, and the double-platinum song "Bright" from their breakout RIAA gold debut album Talking Dreams, followed by the Inside A Dream EP. Simultaneously, Sydney stood out as a positive cultural force, whether acting as a brand ambassador for Coach, designing a line for Hollister, or dueting on stage with Taylor Swift. The sibling trio, who released their bold, synth-driven Top 20 Hot AC hit "Over My Head" in 2018, has earned critical acclaim from the likes of Billboard, Vulture, MTV, Elle, Rolling Stone, Teen Vogue, NYLON, and more. Along the way, the trio has captivated crowds worldwide, toured with twenty one pilots and Pentatonix, garnered over 1 billion streams, and performed on numerous national TV programs including The Ellen DeGeneres Show, The Tonight Show Starring Jimmy Fallon, TODAY, Late Night with Seth Meyers, and The Late Late Show with James Corden. At the heart of Echosmith's music is their mission to spread hope and love to the whole world. Stay tuned for much more to come in 2019!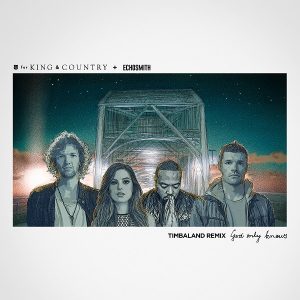 for KING & COUNTRY
God Only Knows (Timbaland Remix) + ECHOSMITH (Single)
Track Listing
1. God Only Knows (Timbaland Remix) + ECHOSMITH
Burn The Ships
Track Listing
1. Introit
2. joy.
3. God Only Knows
4. Amen
5. Burn The Ships
6. Fight On, Fighter
7. Need You More
8. Control
9. Never Give Up
10. Hold Her
11. Pioneers (feat. Moriah & Courtney)