"Defender (Neon Feather Remix)" Available At All DSPs
GRAMMY® Award-winner Francesca Battistelli releases "Defender (Neon Feather Remix)" across all DSPs. The new version of the song is a richly textured spin-off of the original ballad, giving the powerful worship anthem a fresh perspective. In addition to "Defender," Neon Feather has remixed recent versions of hit songs from We Are Messengers and TobyMac, among other artists. As Battistelli releases the vibrant remix, "Defender" continues to climb the charts at Christian radio.
Following the empowering, fan-favorite hit "The Breakup Song," "Defender" is the second single from Own It, Battistelli's fourth full-length studio record. Written by Rita Springer, Steffany Gretzinger and John-Paul Gentile, "Defender" declares that the Lord fights our battles for us and prepares a table in the presence of our enemies. The slow-burning worship anthem brings Exodus 14:14 to life: "The Lord will fight for you; you need only to be still."
"As a songwriter, I get such joy out of spending my time crafting words and creating melodies that God places on my heart. Yet there are times when I come across a song that just gets to me on a deep, core level. 'Defender' continues to be that song," Battistelli shares. "It has been such an honor to travel the country performing this life-changing anthem and watching others sing and experience these incredible words. Earlier this summer we teamed up with Neon Feather to craft this refreshed version, and the LIFE and energy it has made me experience this song and this message in a whole new way. I hope you can worship and reflect on the God that loves you so endlessly, knows you so fully, and is your great Defender!"
Along with the remix, Battistelli has also unveiled a brand-new lyric video for the song. Watch the video below.
About Francesca Battistelli:
GRAMMY® award-winning artist Francesca Battistelli began writing and performing original songs at age 15. A childhood immersed in art, music, dance, and theatre prepared her for a future career on the stage. Since her 2008 Gold-certified debut, My Paper Heart, Battistelli has propelled three consecutive studio projects to the top of Billboard's Christian Albums chart and notched seven No. 1 radio singles, including multi-format, 15-week chart-topper "Holy Spirit." The wife and mother of four, who is expecting baby #5, has appeared on "Good Morning America" and "FOX & Friends" and has seen her music placed in a variety of high-profile films and television shows. In addition to one GRAMMY® win and four career GRAMMY® nominations, Battistelli has garnered a Billboard Music Award nod, two K-LOVE Fan Awards, and six Dove Awards, including being named the Gospel Music Association's Artist of the Year. With total on-demand streams exceeding 380 million, YouTube views of more than 72 million, and total equivalent albums of 2 million, the singer/songwriter continues to be one of the strongest voices in Christian music. Her latest album, Own It—featuring the hit singles "The Breakup Song" and "Defender"—released Fall 2018.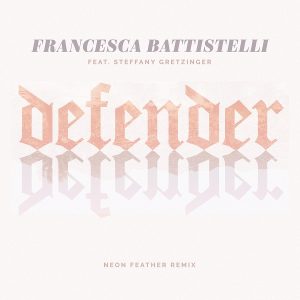 1. Defender (feat. Steffany Gretzinger) [Neon Feather Remix]