NEW ACOUSTIC VERSION OF "SLOWER" AVAILABLE THIS FRIDAY, AUG. 9

Current Smash Eclipses 26 Million Streams + Climbing at Country Radio
Missouri Native's The Slower Tour Underway; Tapped by Lauren Alaina and Dan + Shay for Select 2019 Tour Stops
Fresh off his scorching hot set at Windy City Smokeout in Chicago, country singer/songwriter Filmore finds himself with a certified hit on his hands via his single "Slower," his first for label Curb Records. With each passing day, the addictive song with its ultra-satisfying banjo backbeat, has already surpassed 26 million on-demand streams-and-climbing and is earning its place as 'the song of the summer' according to NBC's "TODAY."
Growing up in Wildwood, Missouri, Filmore would come home from school and, as he told Rolling Stone, listen to everything from salsa music his Colombian mother would play while cooking dinner, to his dad's Eighties favorites like John Mellencamp and Def Leppard.
"I grew up listening to all types of music – my parents music, the internet, and the radio stations in my hometown. From high school to college and then Nashville, my music influences just kept growing, and continue to," shares Filmore. "I found my musical sound by being completely true to myself. The moto I've built my career and music upon is 'anything but typical.' I've been in Nashville seven years, and in the last couple it feels like I've hit a groove musically and on the road."
"Slower" was written by Filmore, alongside Steven Dale Jones and Justin Ebach, and produced by Ebach.
This Friday's (Aug. 9) release of an acoustic version of "Slower" follows last month's additional release of new song "Livin Easy," and recent previous track "Other Girl," the latter two off his forthcoming full studio album set for release later this year.
Filmore is also grabbing the attention of some of country music's hottest artists. This fall, he will tour alongside Lauren Alaina on her That Girl Was Me Tour and also share the stage in August with Dan +Shay, following a July date with the duo.
And thanks to the demand from fans, Filmore will soon set off on his The Slower Tour which includes high profile stops in New York, Las Vegas and Nashville with special guests Alana Springsteen and Niko Moon on select dates.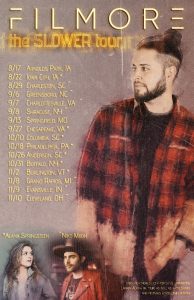 Filmore's upcoming tour dates are as follows:
August 9           Oro Station, On. | Boots & Hearts Festival
August 11         Springfield, Ill. | Illinois State Fair
August 17         Arnolds Park, Iowa | Preservation Plaza*
August 22         Iowa City, Iowa | Wildwood Saloon*
August 24         Morgantown, W.V. | Mylan Park
August 29         Charleston, S.C. | Music Farm*
August 30         Charlotte, N.C. | Romare Bearden Park
August 31         Greenville, S.C. | Fluor Field
September 6    Greensboro, N.C. | The Cone Denim Entertainment Center*
September 7    Charlottesville, Va. | The Southern*
September 8    Syracuse, N.Y. | Westcott Theater*
September 13  Springfield, Mo. | Midnight Rodeo*
September 14   Columbia, Mo. | The Blue Note
September 19   Warrendale, Penn. | Jergel's Rhythm Grille
September 20    New York, N.Y. | Bowery Ballroom
September 21   Richmond, Va. | The National
September 26   Boston, Mass. | Paradise Rock Club
September 27   Chesapeake, Va. | Eagle's Nest*
October 3           Columbus, Ohio | The Bluestone
October 4           Rosemont, Ill. | Joe's Live
October 5           Indianapolis, Ind. | 8 Seconds Saloon
October 10        Columbia, S.C. | Tin Roof*
October 13         Mohnton, Penn. | Maple Grove Raceway
October 18         Philadelphia, Penn. | Prospector's*
October 23         Nashville, Tenn. | Exit/In
October 24         Atlanta, Ga. | Buckhead Theater
October 25         Nashville, Tenn. | Exit/In
October 26         Anderson, S.C. | Wendell's Dippin Branch*
October 31       Buffalo, N.Y. | Showplace Theatre*
November 2      Burlington, Vt. | Higher Ground Showcase Lounge*
November 8      Grand Rapids, Mich. | The Stache*
November 9      Evansville, Ind. | Bud's Rockin' Country*
November 10    Cleveland, Ohio | House of Blues*
November 25     Bowen Hills, Aus. | Brisbane Showgrounds
December 4     Las Vegas, Nev. | Freemont Street Experience
*The Slower Tour dates featuring Alana Springsteen or Niko Moon
Despite having a full touring schedule and a packed radio tour in support of "Slower," Filmore proudly volunteered to perform at Colton Underwood's Legacy Foundation event and Seattle Seahawks Quarterback Russell Wilson's Strong Against Cancer Foundation golf invitational, performed at BMI's Rooftop on the Row, visited his hometown MLB team, the St. Louis Cardinals, to show his support for their season and, to top it all off, made his Grand Ole Opry debut.
About Filmore
"Groundbreaking" is just one word that can begin to describe Filmore, a Wildwood, Missouri native, who now calls Nashville home. With over 85 million on-demand streams, appearances on NBC's "TODAY" and TheBobby Bones Show, the singer/songwriter has honed his electric and engaging live show by touring alongside artists such as Sam Hunt, Russell Dickerson, Carrie Underwood and Dan + Shay, among others. With his first major label album expected later this year, lead single "Slower" is racing up the country radio charts thanks to unprecedented streaming boosts, as prior to being signed, Filmore was the first independent artist to be featured on Spotify's Hot Country cover. For more information, visit filmoremusic.com or follow online @filmoremusic.

Slower (Acoustic) (Single)