Chart-Topper Marks Third Consecutive No. 1 Hit At CHR/Hot AC Radio
"Remind Me," the latest single from pop powerhouse Blanca, tops Billboard's CHR/Hot AC radio chart this week, marking the third consecutive CHR/Hot AC No. 1 for the singer. "Real Love" and "What If" also previously crowned the chart back-to-back. All three songs are from her sophomore LP, Shattered, which released in September 2018. Blanca recently unveiled the official music video for the album's title track.
"'Remind Me' was written at a moment in my life where I desperately needed to remember God's faithfulness. It became an anthem I clung to when everything around me seemed to be at a breaking point. Now over two years from that dark place I was in, I'm able to see how He got me through it once again. Not only did God get me through, but He made such beauty from the ashes. This song going #1 is a testament of that!" shares Blanca. "Sometimes we need a little nudge, a reminder of all He's done for us… If He did it then, He can do it again! Thank you to every single person who got behind this song and message! It means the world!"
In addition to making waves at radio, on Aug. 30, Blanca released Quebrantado, the Spanish-language version of Shattered. Upon release, the five-song project—honoring her Hispanic heritage—graced the Spotify Premium homepages in five different countries, including Bolivia, Columbia, Ecuador, Paraguay and Peru. The album's lead single, "Preguntas" (the Spanish version of "What If"), has been shipped to CCM radio stations across Latin America.
This fall, Blanca will join Mandisa's "Girls Night Live" tour, also featuring Riley Clemmons. The 14-city run will visit churches and theaters throughout October and November.
Track Listing
1. Remind Me
2. What If
3. Real Love
4. Best Part Of Me
5. Steady
6. All In
7. Heaven
8. Run To The River (Feat. Tye Tribbett)
9. How Much More
10. Shattered
11. Undeniable
12. Numb
13. Give It All (Feat. Redimi2)
14. Feel It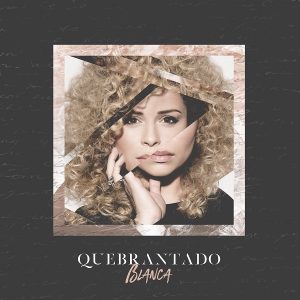 Quebrantado EP
Track Listing
1. Amor Real (Real Love)
2. Preguntas (What If)
3. Quebrantado (Shattered)
4. Entrego Todo (feat. Redimi2) [Give It All]
5. Sube Tu Bandera (Raise Your Flag)
Girls Night Live Tour Dates:
10/9 – Russellville, AR
10/10 – El Dorado, AR
10/11 – Lafayette, LA
10/17 – Englewood, CO
10/18 – Albuquerque, NM
10/19 – Chandler, AZ
10/20 – Santa Ana, CA
10/24 – Sacramento, CA
10/25 – Castro Valley, CA
10/26 – Fresno, CA
10/27 – Redding, CA
11/1 – Bellevue, NE
11/2 – Tinley Park, IL
11/3 – Anderson, IN
*All dates subject to change.
About Blanca:
New York-native Blanca is a powerhouse pop vocalist of Puerto Rican descent. Following a successful multi-year run with Group 1 Crew, she stepped out to go solo. The Premios Redención award recipient's debut solo album garnered two No. 1 radio singles, "Who I Am" and "Not Backing Down" (feat. Tedashii), the latter of which was featured on ESPN. Blanca's latest album release is a project that is very personal to her. That album, Shattered, has added three back-to-back No. 1 radio singles ("Real Love," "What If" and "Remind Me") to her story, to go along with her 40 million streams and more than 20 million views on YouTube. Blanca recently released Quebrantado, a five-song Hispanic version of Shattered.