Fresh off an RIAA Gold Certification of "The Words I Would Say," Dove Award-winning band Sidewalk Prophets returns with new song, "Smile," which is available at all streaming services and digital retailers today, 9/20/19. "Our song, 'Smile,' is an anthem of joy and a reminder to hold on to God's promises through thick and thin," Sidewalk Prophets front man Dave Frey shares. "Over the past few years, we've been through some pretty awesome experiences, as well as some very terrifying ones… When you start to pay close attention, you begin to see that how you respond to these experiences is actually a choice. In the tough times, we can either wither away in fear and doubt, or we can go confidently into each new challenge knowing that when we hold on to Christ and His promises, there is always a reason to smile."
Frey has seen his share of highs and lows since the band's last album, the critically-acclaimed Something Different. He's felt the high of getting married and experienced the low of loss after the band's bus broke down, resulting in a catastrophic trailer fire that destroyed the majority of the group's gear. Whether on a mountaintop or in a valley, Frey and his bandmates have learned to "smile," even through the pain—a sentiment they share on their new song the lead singer wrote alongside band co-founder and manager Ben McDonald and songwriters Hannah Ellis and Josh Bronleewe.
Sidewalk Prophets will preview "Smile" and other new music on the These Simple Truths Tour this fall. On this special acoustic run, the band is celebrating 10 years and a million miles traveled since the release of their debut album featuring their first radio single, the Gold-certified "The Words I Would Say." The tour kicked off last night in Auburn, N.Y. and will conclude November 10 in Moore, Okla., showcasing intimate stripped-down sets in cities across the country. Full tour routing is below.
As previously announced, the band will also reprise its Great Big Family Christmas Tour for a second consecutive year this December. Moreover, later this year they'll drop Merry Christmas To You: Great Big Family Edition, a deluxe version of their original holiday LP that released in 2013.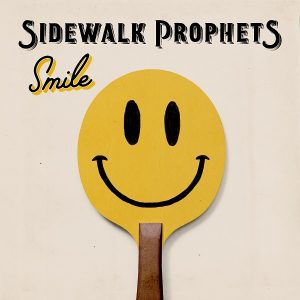 These Simple Truths Tour:
9/19 – Auburn, NY
9/20 – Jamestown, NY
9/21 – Trucksville, PA
9/22 – Medford, NJ
9/26 – North Augusta, SC
9/27 – Ocala, FL
9/28 – Pompano Beach, FL
9/29 – Sanibel, FL
10/4 – Little Hocking, OH
10/5 – Ellijay, GA
10/6 – Bridgewater, VA
10/12 – Manitowoc, WI
10/13 – Goshen, IN
10/17 – Van Buren, AR
10/18 – Conway, AR
10/19 – Graham, TX
10/20 – Dodge City, KS
10/24 – Wilmington, NC
10/25 – Jamestown, TN
10/26 – El Dorado, AR
10/27 – Henderson, TN
11/1 – Lexington, SC
11/2 – Valdosta, GA
11/3 – Gastonia, NC
11/7 – Topeka, KS
11/8 – Papillion, NE
11/9 – Independence, KS
11/10 – Moore, OK
*Dates and venues subject to change.
About Sidewalk Prophets:
With a career spanning three major label studio releases—These Simple Truths (2009), Live Like That (2012) and Something Different (2015), plus 2013's celebrated holiday offering, Merry Christmas To You—and multiple hits, including Gold-certified "The Words I would Say," "You Love Me Anyway" and "Live Like That," among others, Sidewalk Prophets remains a mainstay at Christian radio. The Dove Award-winning band has sold more than 740,000 albums and 1.8 million digital tracks. In addition, the group has garnered five No. 1 songs, nine top five radio singles and more than 39 million views on YouTube. The band originally formed at Indiana's Anderson University, and since signing with Curb | Word Entertainment, they've been nominated for a Billboard Music Award, multiple K-LOVE Fan Awards and four Dove Awards, taking home the New Artist of the Year Dove in 2010. Over the course of their career, they've played for more than 2.5 million fans, and counting. Known for spending more days on the road than anywhere else, Sidewalk Prophets' most recent tours have morphed into interactive experiences for their fans, whom they affectionally call "The Great Big Family." The band's new single, "Smile," is available now. For more information, visit www.sidewalkprophets.com.