Jackson Michelson Struggles to Say Goodbye On Anthemic 'Stay Over': Exclusive
Jackson's distinct brand of country and rock influences are highlighted within the new music video for his latest song, "Stay Over." Directed by PJ Brown, the video serves as an artistic three-minute clip that stars two dancers acting out the lines of "Stay Over" with a metaphorical door in between them as Michelson's song is brought to life.
The Curb recording artist's captivating vocals are at the forefront of "Stay Over" alongside soaring guitars and a pounding drumbeat. All the while, the Portland, Oregon native struggles at the end of a relationship, telling an ex, "we can never stay over."
"People always like to talk about the positive side of relationships, and the highlights, but I've found that highlights are the best when you're committed to something you believe in," Michelson tells Billboard. "'Stay Over' is a song about the passion of love not letting a relationship end. I love this video because it captures the honesty and reality of what it looks like to be in a relationship that can't stay over."
"I loved being able to collaborate with director PJ Brown. His cutting-edge vision and unique storytelling brought out the passion I had when I wrote this song to life," Michelson adds.
Michelson grew up surrounded by music as his stepfather was a high school theater director and his stepbrother was a musician. He and his brother would eventually form a band called Root Down and once the group disbanded, Michelson decided to pursue a solo career. He has spent the better part of the last few years on the road averaging 200 dates a year opening for Lee Brice, Cole Swindell and Frankie Ballard, among others. After releasing his own self-funded debut album, Michelson signed with Curb Records.
Stay Over can be seen here: https://www.billboard.com/articles/columns/country/8530729/jackson-michelson-stay-over
by Annie Reuter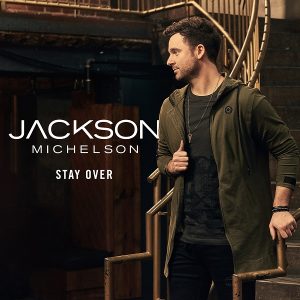 UPCOMING TOUR DATES:
| Date | Artist | Location | City | State |
| --- | --- | --- | --- | --- |
| 04-Oct-19 | Jackson Michelson | Baxter Arena | Omaha | NE |
| 05-Oct-19 | Jackson Michelson | Bismarck Event Center | Bismarck | ND |
| 11-Oct-19 | Jackson Michelson | Stoney's Rockin' Country | Las Vegas | NV |
| 12-Oct-19 | Jackson Michelson | Watson Lake | Prescott | AZ |
| 13-Oct-19 | Jackson Michelson | Tony's Pizza Event Center | Salina | KS |