GRAMMY® Award Winning Duo To Perform On "CMA Country Christmas"
Two-time GRAMMY® award winning duo for KING & COUNTRY and world-renowned entertainer Dolly Parton continue to receive critical acclaim for their unprecedented collaboration on the duo's award winning single "God Only Knows." The song has surpassed 70 million on demand streams in only one week. The moving music video reached No. 1 on iTunes across all genres, has been viewed over 2 million times in its first week, and landed at #11 on YouTube's top trending videos. The incredible new video, produced by Patrick Tohill and directed by Benjamin Smallbone, can be viewed in full HERE.
for KING & COUNTRY just released a documentary that reveals exactly how this remarkable collaboration came together. When Dolly was asked how she hopes the listener will feel after hearing the track, she said, "I want people to feel the way I did when I first heard this song. I know everybody will relate to it in their own way, and I truly hope that it will start making people think more about goodness, kindness, and love." Watch it HERE.
for KING & COUNTRY will be one of the featured performers during the tenth annual "CMA Country Christmas," hosted by Trisha Yearwood. The duo is slated to perform a one-of-a-kind rendition of their unique take on the Christmas classic "Little Drummer Boy." The famed holiday music special will be taped Wednesday, September 25th at Belmont University's Curb Event Center in Nashville. Tickets are on sale NOW at CMAChristmas.com/tickets.
The original version of "God Only Knows" won "Song of the Year" honors at the K-LOVE awards, received a Dove Award nomination for Pop/Contemporary Recorded Song of the Year, and held the No. 1 spot on Billboard's Top Christian Songs chart for 11 weeks. Additionally, the song hit Top 25 on Mediabase and Billboard's Hot AC charts while garnering 340 million radio impressions.
About for KING & COUNTRY
Two-time GRAMMY® award-winning Australian duo for KING & COUNTRY is comprised of brothers Joel & Luke Smallbone. October 2018 saw the release of their much anticipated third studio album burn the ships, which debuted at #7 on the Billboard Top 200 Albums chart. The album's soaring GRAMMY® nominated debut single, "joy," held the No. 1 spot for four consecutive weeks, marking the group's highest debut on three Billboard charts. Their current single, "God Only Knows" has reached #1 on the Billboard Audience chart and has accumulated close to 70 million global on-demand streams, increasing the duo's career on demand streams to 667 million. To kick off 2019, Joel & Luke launched Part I of their burn the ships | world tour, performing in their Australian homeland for the first time and selling out every show, including the iconic Sydney Opera House. Their previous album, the gold-certified RUN WILD. LIVE FREE. LOVE STRONG. debuted at No. 1 on iTunes, and produced two GRAMMYs®, four Dove Awards, a successful 60-date arena tour, and a world tour that has so far produced 22 sold out dates. They have garnered five No. 1 hits, nine Top 10 hits, and had songs featured on the Emmys, Super Bowl, Sunday Night Football and other high-profile events, including performances on The Tonight Show, Today Show, and Jimmy Kimmel Live! In October 2016, the Smallbone brothers released the indie film inspired by their No. 1 hit of the same name, Priceless, about human trafficking.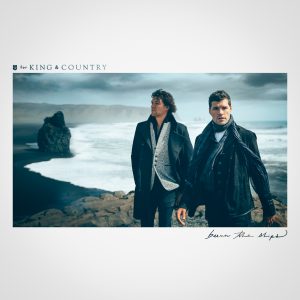 Track Listing
1. Introit
2. joy.
3. God Only Knows
4. Amen
5. Burn The Ships
6. Fight On, Fighter
7. Need You More
8. Control
9. Never Give Up
10. Hold Her
11. Pioneers (feat. Moriah & Courtney)