Joins "Family Ties Tour" This Fall
Hip Hop artist Steven Malcolm took home three Kingdom Choice Awards this past Saturday, Sept. 28. His latest LP, The Second City, was named "Hip Hop Album of the Year," while his song "Fuego" earned "Video of the Year" and "Hip Hop Single of the Year" honors.
Now in its tenth year, the Kingdom Choice Awards is the exclusive awards show for independent Christian Hip Hop and Urban Gospel artists. The 2019 ceremony was held at the Kumble Theater on the campus of Long Island University, located in downtown Brooklyn, N.Y. Malcolm closed out this year's show with a high-energy performance of "Fuego" and his current Top 10 Hot AC single, "Even Louder (feat. Natalie Grant)."
Steven Malcolm performs at the Kingdom Choice Awards in Brooklyn, N.Y. on Saturday, September 28, 2019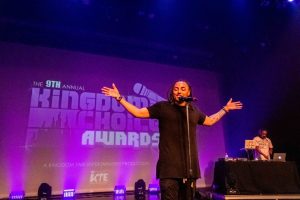 Both songs are from his sophomore set, The Second City, released at the beginning of 2019 on 4 Against 5, a division of Curb | Word Entertainment. Dedicated to his father, who immigrated to the U.S. from Montego Bay, Jamaica (nicknamed "The Second City"), the album is a vulnerable look into Malcolm's own journey to self-discovery. When Malcolm was only 10, his father was deported back to Jamaica by U.S. authorities, where he later passed away, leaving Malcolm fatherless. Yet, it was through this heartbreaking experience that he found his true identity and the inspiration for the music he's making today.
This fall Malcolm will share new music from The Second City on select dates of the Family Ties Tour, also featuring nobigdyl., Canon and Kurtis Hoppie.
Steven Malcolm Family Ties Tour Dates:
10/19 – Boise, ID
10/24 – Spokane, WA
11/14 – Waukegan, IL
11/15 – Chicago, IL
11/21 – Temple, TX
11/23 – Houston, TX
12/8 – Atlanta, GA
*More dates to be added. All dates subject to change.
About Steven Malcolm:
Steven Malcolm is a hip hop recording artist from Grand Rapids, Michigan, with Jamaican roots. His music, which has been streamed over 20 million times, has been featured on Spotify's New Music Friday, ESPN and VH1's "Black Ink Crew." Malcolm, who is known for pushing visual and sonic boundaries with his cinematographic eye and multi-cultural musical background, has performed for over 1 million people. His latest album release, The Second City, showcases his diverse artistry as he combines multiple genres, including hip hop, reggae and worship.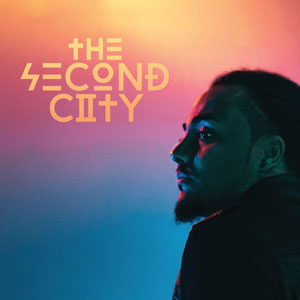 The Second City
Track Listing
1. Not To Us/Good Love (feat. Taylor Hill & Anderson Michael)
2. Watch
3. Rodeo (feat. Taylor Hill)
4. Fadeaway (Ft. Zauntee)
5. The Second City
6. Fuego (Ft Anderson Michael)
7. On Ten
8. Been There
9. Even Louder (Ft. Leeland)
10. The Beauty Of Dreams
11. On The Move
12. Devil Is A Liar
13. Heart Of A David
14. Overflow (feat. Stars Go Dim)
15. Redemption Song