1st Prize – One winner and a guest receives:
• The Ultimate ACM Awards Experience for one winner and a guest on Apr 3-6 including:
-FLIGHTS TO AND FROM LAS VEGAS
-FREMONT STREET EXPERIENCE (FRIDAY NIGHT)
-ACM LIFTING LIVES TOPGOLF TEE-OFF HOSTED BY DARIUS RUCKER & RASCAL FLATTS – PERFORMERS TBA (SATURDAY MORNING)
-ACM AWARDS SHOW REHEARSALS (SATURDAY AFTERNOON)
-ACM BEACH BASH PRESENTED BY DR PEPPER BENEFITING ACM LIFTING LIVES AT MANDALAY BAY BEACH WITH PERFORMANCES BY KEITH URBAN, LADY ANTEBELLUM & MORE (SATURDAY NIGHT)
-55TH ANNUAL ACADEMY OF COUNTRY MUSIC AWARDS (SUNDAY NIGHT)
-DELUXE LODGING WITH THE STARS AT MGM GRAND RESORT ON THE STRIP
-AIRPORT, FREMONT STREET & BEACH BASH SHUTTLES
-AIRPORT GREETINGS & ALOHAS
-HOST & ESCORT AT ALL EVENTS
-WORLD-CLASS TRIP STAFF & VIP HOSPITALITY
-TRIP ASSISTANCE & HOSPITALITY COUNTER
-COMPREHENSIVE ELECTRONIC TRIP WINNER KIT
-GENERAL TRIP SUPERVISION
-24 HOUR-A-DAY EMERGENCY ACCESS
-MEET AND GREET WITH JACKSON
Enter here  – https://www.tunespeak.com/campaign/5e16420ef6f9646656def379?p=5e16420ef6f9646656def37d
JACKSON MICHELSON
Over the past year Michelson has played more than 150 shows, opened for Blake Shelton, Lady Antebellum and Zac Brown Band and visited radio stations in over 120 cities across the country.
Raised in Corvallis, Oregon, Jackson Michelson kicked off his country career on the West Coast, carving out a sound that blended the rootsy twang of the American South with the sunny, feel-good spirit of the Pacific Coast. By the time he moved to Nashville, he'd already spent years on the road, playing in bands back at home.
It was then that he started writing. It was music shaped by what he listened to and where he came from.  But most of the grunt work was done on the road, where connecting with new fans along the way was priority number one. To Michelson those fans were everything. They were his muse, his support system and his champions.
Now, with a record deal under his belt, Michelson is prepping for the next phase of his career. There are new shows to play, new songs to be written and new opportunities to explore. But he's still the boy from Corvallis, happy to sing — a life he's built himself, show by show, song by song — to an audience that continues to grow.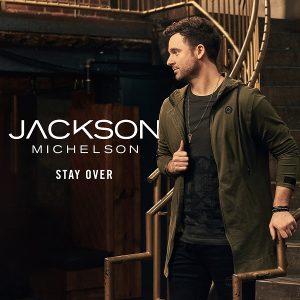 1. Stay Over