New Six-Track EP Available Now
Curb | Word Entertainment duo Love & The Outcome drop new music today (3/6/20) with the release of You Got This. The fresh EP features their current radio single, "You Got This," along with five additional tracks all co-written by Love & The Outcome's Jodi King and Chris Rademaker. Listen to You Got This HERE.
In addition, the couple is also premiering a music video for new track "Moving On." Filmed in the Sonora Desert in Arizona, the scenic footage features the duo embracing the freedom found in letting go and pushing forward, despite the unknown. "Chris and I wrote 'Moving On' in a season of feeling stuck," Jodi shares. "In the middle of our frustrated prayers, God reminds us that even when we feel stuck, He is still moving. As believers, we're never really stuck, we're just on pause from God's perspective. Once we get a glimpse of what He's up to, freedom comes flooding in." Watch the visual for "Moving On" HERE.
Love & The Outcome also recently debuted a music video for the EP's bright title track, in which their two young sons, Milo and Ziggy, steal the show. Watch the official clip for "You Got This" HERE.
To celebrate the new release, Love & The Outcome will perform three shows this weekend in Nevada. Later this month, they'll join 7eventh Time Down and Rhett Walker for the Ultimate Playlist Tour.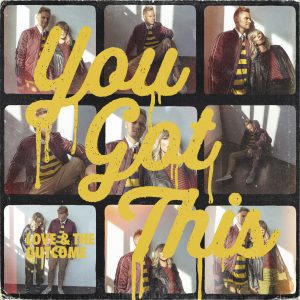 You Got This EP Track Listing:
 Where You Are
You Got This
Same Page
Falling Into Place
Imperfect
Moving On
Stream or purchase You Got This HERE.
Upcoming Love & The Outcome Tour Dates:
 March 6 – Fallon, NV
March 7 – Reno, NV
March 8 – Ely, NV
March 13 – Magnolia, AR
March 15 – Crossville, TN
March 26 – Bulls Gap, TN
March 27 – Washington, IN
March 28 – Jefferson City, MO
*All dates and cities subject to change.
For more info and all tour dates, visit www.loveandtheoutcome.com.
About Love & The Outcome:
 Hailing from Canada, Love & The Outcome is the husband and wife duo of singer/songwriter Jodi King and bass player/songwriter Chris Rademaker. After signing to Curb | Word Entertainment in 2012, they retreated to the mountains of Washington state to record their powerful self-titled debut album. Love & The Outcome released on August 27, 2013 to critical acclaim, and the duo has since become a mainstay at Christian radio and shared the stage with the likes of Newsboys, Switchfoot, Lecrae, TobyMac, and more. Their highly-anticipated sophomore album took the duo into a grateful, restful and celebratory season with songs that encompassed a unique mix of worship, praise and declaration. These Are The Days, produced by Seth Mosley and Colin Munroe, includes the hit single, "The God I Know." Released in late 2018, the deluxe version of the album includes features from hip-hop artists Ty Brasel and Steven Malcolm, new covers, and more. Love & The Outcome released their latest EP, You Got This, on March 6, 2020.
About Curb | Word Entertainment:
In 2016, Curb Records acquired Word Entertainment, combining two of the music industry's most respected brands, and more than a century of collective experience. Today, Curb and Word are two of the world's leading independent music companies. Owned and operated by Mike Curb, the Curb | Word family includes the labels Curb, Word, Squint, Fervent, Sidewalk, and IVAV, as well as Curb Publishing, Word Publishing, 25 Live, Curb Films, Word Films, Word Entertainment, and Curb Sports, representing top artists and entertainers in Country, Christian, Pop, Rock, and Hip-Hop. For more information, visit www.curb.com.