Earlier tonight, four-time GRAMMY® award-winner and Curb | Word Entertainment recording artist for KING & COUNTRY presented an extraordinary streamed concert event filled with music, stories, and special guests. "TOGETHER: A Night of Hope" featured an exclusive for KING & COUNTRY performance with Australian brothers, Joel and Luke Smallbone, and their bandmates from their respective homes presenting six songs, including one never-before-released tune, via split-screen. It was important for the duo to be "together" with their fans and bring a sense of hope during this unprecedented time.
Kathie Lee Gifford and Kirk Franklin were on hand via FaceTime to offer their own words of experience and encouragement. "TOGETHER: A Night of Hope" accrued over 90K live impressions and has already been viewed over 1 million times across all social platforms. Watch the entire event via YouTube or Facebook Live.
Joel and Luke Smallbone share in a statement: "Never in our lifetime has the entire globe been separated and in pain simultaneously like this. There can be great uncertainty in what we should do and how we can help. We can love, we can have hope in the face of fear, and we can reach out to those who need to be lifted up. It is a time in which we can choose 'togetherness' even while we are physically apart. We hope that "TOGETHER: A Night of Hope" was a respite for you in this unsettling time and thank you all for spending your evenings with us. We are stronger together."
One of the most touching moments of the night came when Joel and Luke video-conferenced a couple whose wedding was postponed due to the ongoing pandemic. Upon learning that the couple was set to walk down the aisle to an arrangement of the duo's "Burn the Ships," Joel, Luke, and the band shared an inspired rendition of the song, as the couple affectionately looked on. for KING & COUNTRY treated viewers to a surprise, as the night ended with the performance of a brand-new, unreleased track called "Together."
Setlist from "TOGETHER: A Night of Hope":
joy
Burn the Ships
Little Drummer Boy
Shoulders
God Only Knows
Together (new song)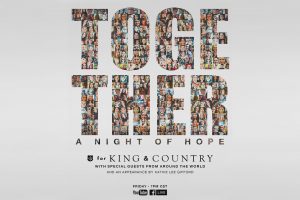 About for KING & COUNTRY:
Four-time GRAMMY® award-winning Australian duo, for KING & COUNTRY, comprised of brothers Joel & Luke Smallbone, collaborated with renowned entertainer Dolly Parton to release a brand-new version of the duo's 11-week #1 hit "God Only Knows" in 2019. In 2020, the track won a GRAMMY® award in the Contemporary Christian Music Performance/Song category, and the album that produced the original hit – burn the ships – won a GRAMMY® in the Contemporary Christmas Music Album category. for KING & COUNTRY graced the CMA stage to perform "God Only Knows" with Dolly Parton at the CMA awards, and they performed their unique and powerful rendition of "Little Drummer Boy" at CMA Country Christmas, receiving national critical praise for both. In the days following their Christmas performance, Joel and Luke Smallbone saw their previously released version of "Little Drummer Boy" undergo a 1,338% increase in downloads, a 60% increase in on-demand streams, and sit atop Billboard's Christian Digital songs chart. They have garnered six No. 1 hits, nine Top 10 hits, six GRAMMY® nominations, three Billboard Music Award Nominations, an American Music Award nomination, and had songs featured on the Emmys, Super Bowl, Sunday Night Football and other high-profile events. National performances include The Tonight Show, Today Show, Jimmy Kimmel Live!, The View, CMA Awards, and CMA Country Christmas. Currently, the duo is on the road with the burn the ships | world tour, which has SOLD-OUT over 40 shows across the world including USA, Australia, Germany, Netherlands, and New Zealand. In total, for KING & COUNTRY has accumulated 826 million on-demand streams with an audience airplay of 5 billion.
About Curb | Word Entertainment:
In 2016, Curb Records acquired Word Entertainment, combining two of the music industry's most respected brands, and more than a century of collective experience. Today, Curb and Word are two of the world's leading independent music companies. Owned and operated by Mike Curb, the Curb | Word family includes the labels Curb, Word, Squint, Fervent, Sidewalk, and IVAV, as well as Curb Publishing, Word Publishing, 25 Live, Curb Films, Word Films, Word Entertainment, and Curb Sports, representing top artists and entertainers in Country, Christian, Pop, Rock, and Hip-Hop.
Burn The Ships
Track Listing
1. Introit
2. joy.
3. God Only Knows
4. Amen
5. Burn The Ships
6. Fight On, Fighter
7. Need You More
8. Control
9. Never Give Up
10. Hold Her
11. Pioneers (feat. Moriah & Courtney)