Newly Released Clip Brims With Energy and Bright, Pop-centric Bounce
— "Dancing My Way," the newest video from modern pop vocalist Wyn Starks, is a timely remedy for cabin fever and anxiety. Released today, the clip finds Starks in his energetic element, spreading a message of optimism with his combination of dance moves, pop hooks, and contagious charisma. Watch the video HERE.
Growing up in Minneapolis, Starks was raised on the Motown records that played throughout his childhood home and the gospel music he sang in church. Now based in Nashville, his songs nod to the R&B greats who came before him — including Stevie Wonder, Michael Jackson, Whitney Houston, and Prince — as well as contemporaries like Leon Bridges, The Weeknd, and Sam Smith. The result is an engaging mix of old and new, and that range is reflected in vivid color throughout the video for "Dancing My Way."
Directed by Fred Williams, "Dancing My Way" turns an urban landscape into the world's largest dance floor. Starks' voice and bright grooves provide the soundtrack, while a diverse cast of characters — including a dancing cat, an animated bird, a weatherman, and dozens of dancers — provide the entertainment, dancing their way across warehouse floors, rooftops, train tracks, classrooms, and alleyways. It's a charming and inclusive video, shining a well-deserved spotlight on an artist whose music builds a bridge between retro appeal and modern-day magic.
"Dancing My Way" is already available on all digital formats, along with "Circles" — Starks' debut single for Sidewalk Records, a division of Curb Records — and his version of the holiday classic "Have Yourself a Merry Little Christmas." For more information on Wyn Starks, visit www.wynstarks.com.
About Wyn Starks:
Influenced by iconic singers like Stevie Wonder, Michael Jackson and Prince and the modern-day brilliance of Leon Bridges, The Weeknd and Sam Smith, Wyn Starks starts with a melody and then wraps his impressive falsetto around lyrics that mirror the emotion he's feeling in the moment, creating his own unique brand of classic cool. Growing up in Minneapolis, Minnesota, the pop singer fell in love with the Motown greats that played throughout his house and the Gospel music he sang in church. Raised by a single mom, his youth was shaped by insecurity and a strong desire to please those around him. It wasn't until he moved to Nashville that he discovered his true identity and self-worth, both personally and professionally. His newfound confidence has shaped the music he's crafting—a melting pot of old-school R&B, retro pop and Motown magic rooted in love, acceptance and inclusion.
About Curb Records:
In 2018, Curb Records joined forces with Word Entertainment to form Curb | Word Entertainment, combining two of the music industry's most respected brands and more than a century of collective experience. Today, Curb | Word Entertainment is one of the world's leading independent music companies.  Owned and operated by Mike Curb, the company includes label imprints Curb Records, Word Records, Squint Entertainment, Fervent, Sidewalk Records and IVAV representing top artists in Country, Christian, Pop, Rock and Hip-hop music, Curb | Word Music Publishing, 25 Live, Curb Films, Word Films, Word Entertainment and Curb Sports.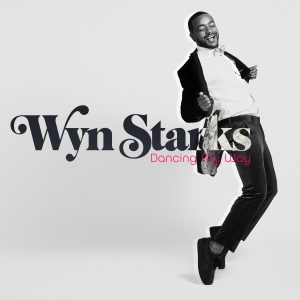 Track Listing
1. Dancing My Way