Grammy® Winning Duo's burn the ships | The 2020 Spring Encore To Kick Off in June 2020
Four-time GRAMMY® Award winner and Curb | Word Entertainment recording artist for KING & COUNTRY announce that the duo's upcoming burn the ships | The 2020 Spring Encore tour has been rescheduled to begin in June 2020. for KING & COUNTRY will open the new set of tour dates on June 4th in Tyler, TX, and finish out the run on June 24th in Mobile, AL. All previously purchased tickets for the original dates will be honored, and ticket holders are encouraged to check their email for important updates. Refunds are available as well within the next 7 days.
for KING & COUNTRY – made up of Joel and Luke Smallbone – took to Instagram to share a statement regarding the rescheduled dates:
"What a week it's been… I know for all of us there have been massive adjustments made, but we hope you're finding time with those you love and staying safe. For those of you in the States that were joining us in April/May, we have been working hard to reschedule these dates with you in hopes that things settle down very soon. So here they are! More thrilled than ever at the chance in the future to be back together with you in person."
The rescheduled dates to the burn the ships | The 2020 Spring Encore are below.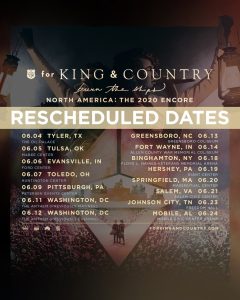 6/4/20 — Tyler, TX @ The Oil Palace
6/5/20 — Tulsa, OK @ Mabee Center
6/6/20 — Evansville, IN @ Ford Center
6/7/20 — Toledo, OH @ Huntington Center
6/9/20 — Pittsburgh, PA @ Petersen Events Center
6/11/20 — Washington, DC @ The Anthem
6/12/20 — Washington, DC @ The Anthem
6/13/20 — Greensboro, NC @ Greensboro Coliseum
6/14/20 — Fort Wayne, IN @ Allen County War Memorial Coliseum
6/18/20 — Binghamton, NY @ Floyd L. Maines Veterans Memorial Arena
6/19/20 — Hershey, PA @ Giant Center
6/20/20 — Springfield, MA @ MassMutual Center
6/21/20 — Salem, VA @ Salem Civic Center
6/23/20 — Johnson City, TN @ Freedom Hall
6/24/20 — Mobile, AL @ Mobile Civic Center Arena
About for KING & COUNTRY:
Four-time GRAMMY® award-winning Australian duo, for KING & COUNTRY, comprised of brothers Joel & Luke Smallbone, collaborated with renowned entertainer Dolly Parton to release a brand-new version of the duo's 11-week #1 hit "God Only Knows" in 2019. In 2020, the track won a GRAMMY® award in the Contemporary Christian Music Performance/Song category, and the album that produced the original hit – burn the ships – won a GRAMMY® in the Contemporary Christmas Music Album category. for KING & COUNTRY graced the CMA stage to perform "God Only Knows" with Dolly Parton at the CMA Awards, and performed their unique and powerful rendition of "Little Drummer Boy" at CMA Country Christmas, receiving national critical praise for both. In the days following their Christmas performance, Joel and Luke Smallbone saw their previously released version of "Little Drummer Boy" undergo a 1,338% increase in downloads, a 60% increase in on-demand streams, and sit atop Billboard's Christian Digital songs chart. They have garnered six No. 1 hits, nine Top 10 hits, six GRAMMY® nominations, three Billboard Music Award Nominations, an American Music Award nomination, and had songs featured on the Emmys, Super Bowl, Sunday Night Football and other high-profile events. National performances include The Tonight Show, Today Show, Jimmy Kimmel Live!, The View, CMA Awards, and CMA Country Christmas. Currently, the duo is on the road with the burn the ships | world tour, which has SOLD-OUT over 40 shows across the world including USA, Australia, Germany, Netherlands, and New Zealand. In total, for KING & COUNTRY has accumulated 826 million on-demand streams with an audience airplay of 5 billion.
About Curb | Word Entertainment
In 2016, Curb Records acquired Word Entertainment, combining two of the music industry's most respected brands, and more than a century of collective experience. Today, Curb and Word are two of the world's leading independent music companies. Owned and operated by Mike Curb, the Curb | Word family includes the labels Curb, Word, Squint, Fervent, Sidewalk, and IVAV, as well as Curb Publishing, Word Publishing, 25 Live, Curb Films, Word Films, Word Entertainment, and Curb Sports, representing top artists and entertainers in Country, Christian, Pop, Rock, and Hip-Hop. For more information, visit www.curb.com.
Burn The Ships
Track Listing
1. Introit
2. joy.
3. God Only Knows
4. Amen
5. Burn The Ships
6. Fight On, Fighter
7. Need You More
8. Control
9. Never Give Up
10. Hold Her
11. Pioneers (feat. Moriah & Courtney)