Fresh Track Drops Today (3/20/20)
Curb | Word Entertainment recording artist Sarah Reeves surrenders in new song, "Don't Feel Like Fighting," available across all DSPs today (3/20/20). The transparent and deeply personal track explores the tension that inevitably comes with close and intimate relationships over time and opens a fresh slate of new music for Reeves as she embarks on her next artistic chapter. Stream or purchase "Don't Feel Like Fighting" HERE and watch the vibrant music video HERE.
"This next chapter will be songs all based on true stories of my life—the hardships, the healing, the fun and the wild journey of my 20s. I'm nervous and excited at the same time," the singer/songwriter reveals. "It's vulnerable, but I think it's beautiful and I hope you do, too. So here we gooo… This is the first song of many more to come."
"Don't Feel Like Fighting" and previously released track "Anxious" provide glimpses into the honest new songs Reeves is readying for a new full-length album, slated for this fall.
For more info and all tour dates, visit www.sarahreevesmusic.com.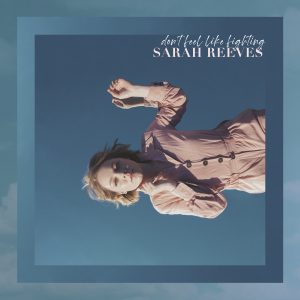 About Sarah Reeves:
Pop artist and songwriter Sarah Reeves signed her first record deal at age 18. After years of aggressive touring, Reeves took an indefinite hiatus to focus solely on songwriting, penning songs for the likes of Jesus Culture, Kari Jobe and Natalie Grant, among others. With a fresh sound stirring in her soul, Reeves began writing personal songs she, herself, wanted to record, which led to a new label deal with Curb | Word Entertainment. Since then, Reeves has reintroduced herself as an artist to audiences across the nation on the Winter Jam Tour Spectacular and on tours with Crowder, Plumb, NewSong, Colton Dixon, Hawk Nelson and more. When she's home in Nashville, Reeves regularly leads worship at The Belonging Co. Her music has been featured in sync placements on major networks, including Netflix, FOX, ABC and NBC, among others, and has amassed more than 50 million career on-demand streams globally. Throughout 2018, Reeves released new music, piece by piece, culminating in the brand new 13-track full-length project, Easy Never Needed You. Vulnerable new tracks "Anxious" and "Don't Feel Like Fighting" preview her next studio album, slated for Fall 2020.
About Curb | Word Entertainment:
In 2016, Curb Records acquired Word Entertainment, combining two of the music industry's most respected brands, and more than a century of collective experience. Today, Curb and Word are two of the world's leading independent music companies. Owned and operated by Mike Curb, the Curb | Word family includes the labels Curb, Word, Squint, Fervent, Sidewalk, and IVAV, as well as Curb Publishing, Word Publishing, 25 Live, Curb Films, Word Films, Word Entertainment, and Curb Sports, representing top artists and entertainers in Country, Christian, Pop, Rock, and Hip-Hop.