"[Dan's] whole heart went into this project; these acoustic sessions are so much more than just simply 'a guitar and singing.' They are a demonstration of his passion and faith and the only simple thing about it is that I 'simply' loved it." – NewReleaseToday
Curb | Word Entertainment recording artist Dan Bremnes releases his album, Wherever I Go (Acoustic Sessions) today, July 17, 2020. The album follows the release of his latest song, "The Way (Acoustic)," on Friday, June 19, 2020 along with its accompanying music video.
"Making Wherever I Go was one of the most incredible experiences of my life," shares Bremnes. "I loved the production we came up with, but also wanted to show a different side of these songs; I wanted to go back to the honest roots of where they were born. Just me and a guitar or a piano."
The album joins previously released tracks, "Searching For Something (Acoustic)," "Beautiful (Acoustic)," "Up Again (Acoustic Mix)," and "The Way (Acoustic)." Fans can see Bremnes' inclusion of five special guest artists on the album, including Mike Donehey, Stars Go Dim, Love & The Outcome, Meredith Andrews, and Bremnes' wife, Britt Bremnes.
Currently, Bremnes' radio single "The Way" can be found climbing the charts at Christian radio.
About Dan Bremnes:
Dan Bremnes is an award-winning singer/songwriter, and Curb | Word Entertainment recording artist, hailing from Salmon Arm, British Columbia, Canada and currently resides in Nashville. His music career commenced in 2010, with his album, Your Strength, that was independently released. He then released two independent singles, "Hear Your Voice" in 2012 and "After All" in 2013. During this time, Bremnes released an extended play, Light My Way, which was independently released on September 25, 2012. The extended play and singles earned him Covenant Awards at the 35th Annual Awards in 2013 for Male Vocalist of the Year and Music Video of the Year for "This Life". The subsequent year, Bremnes was awarded at the 36th Annual Awards for having the Pop/Contemporary Song of the Year and Recorded Song of the Year for "Beautiful", where he won the Male Vocalist of the Year along with Artist of the Year. He signed to Sparrow Records / Capitol CMG, where he released another single, "Beautiful", in 2014, along with an extended play on April 14, 2015, Where the Light Is. The song, "Beautiful", charted at a peak of No. 17 on the Billboard magazine Christian Songs chart. Bremnes is now signed to Curb | Word Entertainment. His current radio single, "The Way," is from his album, Wherever I Go.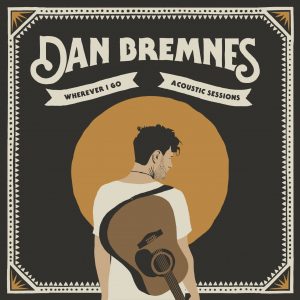 Wherever I Go (Acoustic Sessions)
Track Listing
1. Wherever I Go (Acoustic)
2. Thunder (Acoustic)
3. Weakness (Acoustic) (feat. Mike Donehey)
4. Searching For Something (Acoustic)
5. The Way (Acoustic)
6. How You Love Me (Acoustic)
7. Speak To Me (Acoustic)
8. Going Together (Acoustic) (feat. Britt Bremnes)
9. Up Again (Acoustic Mix)
10. Beautiful (Acoustic)