Diversely-driven record mixes beat-driven hip-hop, hook-heavy pop, and conscious lyrics
Jay-Way cements his status as a worldly hip-hop trailblazer with No, I'm Not OK. Available today, the seven-song EP roots itself in hip-hop's rhythmic bounce and pop's modern melodies, with Jay-Way delivering positive messages about overcoming the spiritual, mental, and physical obstacles that stand in his way.
"It's not what you're expecting from me," says the Amsterdam-based artist, who's been proudly redefining the conventional rapper stereotype since releasing his solo debut, Jaynalysis. "If you know me, you know I pay homage to what I'm into. This project is me paying homage to everything from pop music to the guitar to Avril Lavigne."
Produced by Dayme and Anton Göransson, No, I'm Not OK is the product of a songwriter whose life has proven to be just as richly diverse as his art. Raised by Ghanaian parents in Amsterdam, Jay-Way has always embraced unconventionality. He's fluent in Dutch but performs in English, crediting American pop culture — including Rap City, the urban pop music of the 2000s, and the fast-paced culture of New York City (where he briefly lived as a child) — with expanding his artistic horizons. Written during a dark period of personal struggle, No, I'm Not OK avoids topics like drug use and sex, focusing instead on optimistic messages and broad, genre-defying arrangements.
"Hometown Blues" mixes a banjo riff with thumping beats, while the cathartic, contemplative "On the Rise" — whose studio version and subsequent remix have already racked up nearly 500,000 streams on Spotify — bounces between rapped verses and smoothly-sung choruses. The title track, with its guitar-driven attitude, even nods to the grit of rock & roll. Tying the diverse package together is Jay-Way's songwriting, which urges his listeners to remain hopeful during times of struggle. In that sense, it's the perfect record for the uncertain modern world.
"This is the first time I've gone for a more pop aesthetic," he says. "The hooks are catchier. The lyrics are more transparent. There's way more singing, too. This is me taking a risk and learning to really trust my voice — not just the melodies I'm singing, but the words I'm writing, too."
Along with a dynamic music video for the record's title track, No, I'm Not OK will be released on July 17th via IVAV, a division of Curb | Word Entertainment. These recordings show the full range of Jay-Way's abilities, highlighting not only his versatility as a hip-hop artist, but also the messages at the core of every song.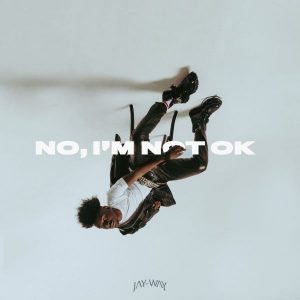 No, I'm Not Ok track listing:
Diary
Hometown Blues
If It Ain't Forever
No, I'm Not OK
Keeping On
On The Rise
Like Quintana
Stream or purchase No, I'm Not OK EP HERE.
About Jay-Way:
Jay-Way is redefining hip-hop music. Based in Amsterdam, he brings a broad, boundary-breaking perspective to the genre, filling his songs not only with the street-smart swagger of rap, but also the modern melodies of pop, the laidback cool of old-school soul music, and the optimistic outlook of gospel. It's a sound that hasn't just set him apart from his contemporaries; it's made him a genuine star at home and abroad, too, with songs like "Happen Dappen" topping Spotify's NL Viral Chart while racking up nearly 2.5 million streams. Arriving in 2020, No, I'm Not OK follows the previous releases Jaynalysis, No Life No Wifi, and Teen Gohan, mixing Jay-Way's most pop-influenced songs to date with lyrics about trusting your gut and rising above your obstacles.
About Curb Records:
In 2018, Curb Records joined forces with Word Entertainment to form Curb | Word Entertainment, combining two of the music industry's most respected brands and more than a century of collective experience. Today, Curb | Word Entertainment is one of the world's leading independent music companies.  Owned and operated by Mike Curb, the company includes label imprints Curb Records, Word Records, Squint Entertainment, Fervent, Sidewalk Records and IVAV representing top artists in Country, Christian, Pop, Rock and Hip-hop music, Curb | Word Music Publishing, 25 Live, Curb Films, Word Films, Word Entertainment and Curb Sports.