Curb Records recording artist Mo Pitney releases his sophomore album, Ain't Lookin' Back, across all digital streaming platforms and retail providers today (8/14). The 13-track LP is the culmination of several years' worth of writing songs and living a life worth writing about—all chronicled on his second full-length project. Also, in support of the album's release, Pitney will be broadcasting a special album release event from The Station Inn in Nashville, Tenn. via Facebook Live on Saturday, 8/15, at 8:00 PM CST. Watch the stream HERE. Listen to the album HERE.
Pitney calls the creative process for Ain't Lookin' Back "the most joyful" musical experience he's had thus far. "I wanted to be completely open-minded, while also adding current sounds, all the while asking: What is my version of what is out today, and how can that meet all of my influences of the past to hopefully make one complete thought, to make something new? The end goal was to shut out all other voices, close our eyes, and create something that came from the heart," shares Pitney of the making of the new album. "I'm looking forward to taking this body of work that is completely me and sharing it with the world. I'm excited to see people's reactions."
Ain't Lookin' Back is already receiving praise from critics with American Songwriter lauding the collection as one of the "most anticipated sophomore albums of the year." They went on to say, "Mo has continued to elevate his writing to match all of the other skills he possesses and has already displayed. Ain't Lookin' Back isn't simply an album name, it is a statement. Pitney is ready to skyrocket. There is no looking back from here."
Taste of Country also compliments the rising talent, saying "…He has a penchant for reaching for emotionally resonant themes that are often more profound than much of contemporary Country music, which helps his music stand out that much more."
Produced by Jim "Moose" Brown, the highly-anticipated follow-up to Pitney's debut album speaks to the idea of rebirth—shedding your past and moving forward into a future filled with grace and forgiveness. Combining his love of traditional Country music in the vein of Ray Price, Buck Owens and Roger Miller with his affinity for singer/songwriters like Randy Newman and James Taylor, Pitney puts his spin on 13 original tracks that seamlessly merge acoustic-driven Country, bluegrass and soulful blues with tender, heartfelt lyrics.
A powerhouse list of more than two dozen songwriters worked to bring Ain't Lookin' Back to life, including Bobby Tomberlin, Paul Overstreet, Tim Nichols, Matt Jenkins, Trevor Rosen, Matt Ramsey, Matt Alderman, Billy Montana, Randy Montana, Jimmy Yeary and Tom Douglas, among others. Pitney holds co-writing credit on seven tracks.
Amidst new music, the dedicated family man continues to give fans behind-the-scenes access every Monday at 4 p.m. CST on Facebook (@MoPitneyOfficial) and Instagram (@MoPitney) with "Mo Monday." Each week, a different documentary-style episode chronicles his journey from Cherry Valley, Illinois to Nashville, Tennessee. In addition, the series explores the making of his new album and his home life with wife Emily, young daughter Evelyne, and their newest edition, Audra, born in July.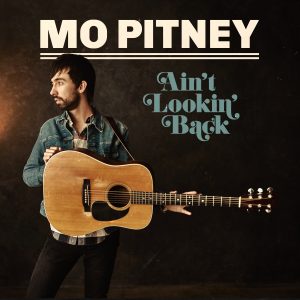 Stream or purchase Ain't Lookin' Back HERE. For more info, visit www.mopitney.com.
Ain't Lookin' Back Track Listing:
A Music Man
Right Now With You
Ain't Bad For A Good Ol' Boy
'Til I Get Back To You
Looks Like Rain
Boy Gets The Girl
Ain't Lookin' Back
Old Home Place
Plain And Simple
Mattress On The Floor
Local Honey
Old Stuff Better
Jonas
About Mo Pitney:
Curb Records recording artist Mo Pitney received a standing ovation the very first time he performed on the iconic Grand Ole Opry stage. Named an "Artist To Watch" by Rolling Stone, Billboard and The Bobby Bones Show, Pitney has amassed 22.8 million on-demand streams since the release of his autobiographical debut, Behind This Guitar. The Illinois-native leans on the influences of traditional country stalwarts like Ray Price, Buck Owens, Roger Miller and Merle Haggard. His original song, "Ain't Bad for a Good Ol' Boy," was recently featured on The Ranch (A Netflix Original Series Official Soundtrack). His sophomore LP, Ain't Lookin' Back, is available now.