Fresh Track "Dance To It" Drops Today (8/28/20)
Curb | Word Entertainment recording artist Sarah Reeves will release her new LP, Life Love & Madness, on October 9, 2020. Fans can pre-order/pre-save the album beginning today (8/28) HERE. In addition, Reeves drops her fifth instant-grat track, "Dance To It," along with its accompanying music video, across all DSPs today. The celebratory song raises a glass to all the epic and all the tragic moments life has to offer with a chorus that says: "To the love, to the pain, to the memories we made, to the past, to the dreams, to the future unseen. We can dance to it." Listen to the track HERE and watch the music video HERE.
Reeves took this same shake-it-off attitude into the studio with producer Ian Keaggy (Hot Chelle Rae) to record Life Love & Madness, a personal collection of 14 original songs all co-written by the songstress herself. The new record boasts some of the most vulnerable writing of Reeves' career, set against a backdrop of colorful, propulsive pop. American Songwriter has provided early support, stating, "In a world that needs something to dance to, Sarah Reeves delivers 'Paradise'."
Life Love & Madness is part mature reflection, part heartfelt confession. As a milestone birthday dawned a new decade for the singer/songwriter, she wisely took it as an opportunity to rewind the previous 10 years of her life and gain some much-needed perspective. Then, she set the past decade to lyric and music. Like a time capsule, her new LP preserves the best and worst of her 20s—a defining decade in every way.
"It was a venture of discovering who I am, learning how to love and letting all the madness in between become a part of my story," Reeves shares of the decade staring back at her in the rearview that informed her new album. "It's beautiful, chaotic, vulnerable and imperfect; but I wouldn't have these songs without the experience. I've used this album as therapy for what I'm feeling, and I hope it can be therapy for other people."
In addition to today's debut of "Dance To It," Reeves has already dropped four new tracks that preview Life Love & Madness, including "Paradise," "Heart First," "Don't Feel Like Fighting" and "Anxious."
For more info, visit www.sarahreevesmusic.com.
Life Love & Madness Official Tracklisting:
2009
Heart First
Not My Style
Paradise
Drive
Motions
Dance To It
Fuel To My Fire
Don't Feel Like Fighting
Say The Word
Anxious
Easy To Love
Not Ready To Let You Go
When It Gets Good
 About Sarah Reeves:
Pop artist and songwriter Sarah Reeves signed her first record deal at age 18. For more than a decade, in addition to pursuing her own artistry, she has dedicated a vast portion of her career to writing songs for other artists and TV and film. Her music has appeared in recent promos for "American Idol" and UFC, and on television series across major networks like ABC, NBC, CBS, FOX and Netflix, among others. Reeves has also been featured on tracks by high-profile DJs, including GATTÜSO, Laidback Luke, and Justice Skolnik. Having amassed more than 39.7 million career on-demand streams, the Curb | Word Entertainment artist has garnered 20.7 million Pandora lifetime streams and over 32.6 million YouTube views to date. Her new studio album, Life Love & Madness, will release October 9, 2020.
About Curb | Word Entertainment:
In 2016, Curb Records acquired Word Entertainment, combining two of the music industry's most respected brands, and more than a century of collective experience. Today, Curb and Word are two of the world's leading independent music companies. Owned and operated by Mike Curb, the Curb | Word family includes the labels Curb, Word, Squint, Fervent, Sidewalk, MCC and IVAV, as well as Curb Publishing, Word Publishing, 25 Live, Curb Films, Word Films, Word Entertainment, and Curb Sports, representing top artists and entertainers in Country, Christian, Pop, Rock, and Hip-Hop.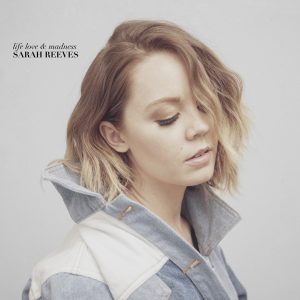 Pre-order/Pre-save Life Love & Madness HERE.