Four-time GRAMMY® award-winning Australian duo and Curb | Word Entertainment recording artist for KING & COUNTRY just released "TOGETHER" (Acoustic Version), which is a special version of their already five-week No. 1 hit. Joel and Luke Smallbone are joined by Cory Asbury as well as their sister Rebecca St. James on the new track, which is an intimate styling of the Smallbones' hit with stripped-down instrumentation that makes way for the song's message of hope, perseverance, and unity.
"With the original version of 'TOGETHER,' it became this worldwide, global song," says Joel Smallbone. "We wanted to give this one a more acoustic feel and strip it down to this intimate, eye-to-eye level, so we invited our sister Rebecca St. James to sing on it, as well as our former touring mate and friend Cory Asbury to give it a more acoustic, worshipful feel."
"TOGETHER" (feat. Kirk Franklin & Tori Kelly) continues to make its mark on the radio charts, as the track has spent multiple weeks at No. 1 on the Billboard and Mediabase Christian radio charts. The song continues to gain momentum at mainstream radio as "TOGETHER" currently sits at No. 32 on the Hot AC chart and holds the No. 15 spot on the AC chart.
Earlier this month, for KING & COUNTRY kicked off Ryman Auditorium's first ever "LIVE AT THE RYMAN" exclusive livestream event and were featured on CBS Sunday Morning's profile on the historic venue.  Joel and Luke can be seen performing a passionate rendition of their latest No. 1 track "TOGETHER" for fans tuning in around the world. Check the story and video clip here.
for KING & COUNTRY Upcoming Dates
 August 28 – Heart of Oklahoma Expo – Shawnee, OK*
August 28, 7:30pm CST – Unite to Fight Poverty with Compassion, World Vision, and Food for the Hungry Livestream Event
September 4 – A Rush of Hope by Harvest Livestream Event
September 11 – Iowa State Fairgrounds – Des Moines, IA*
September 12 – Wisconsin State Fair Park – West Allis, WI*
September 13 – Fox Cities Stadium – Appleton, WI*
 September 18 – Starlite Drive In – Butler, PA*
 September 19 – Guilford Farm – Chambersburg, PA*
 September 24, 6pm CST – Nashville Rescue Mission Celebration of Hope Livestream Event
September 27 – Mercer County Fairgrounds – Celina, OH*
* – drive-in concert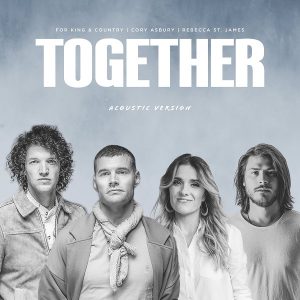 for KING & COUNTRY
TOGETHER (Acoustic Version) (feat. Cory Ashbury & Rebecca St. James) (Single)
Track Listing
1. TOGETHER (Acoustic Version) (feat. Cory Ashbury & Rebecca St. James) (Single)
Listen to the track here.