Australian Duo To Kick Off "Live At The Ryman"
Exclusive Livestream Tomorrow, August 14
Nashville, TENN. – Four-time GRAMMY® award-winning Australian duo and Curb | Word Entertainment recording artist for KING & COUNTRY leads the 2020 Dove Award nominations after this morning's announcement that the duo has been nominated six times – Artist of the Year, Song of the Year, Pop / Contemporary Recorded Song of the Year, Contemporary Christian Artist of the Year, Spanish Language Recorded Song of the Year, and Short Form Video of the Year.  Voting for the final winners will run August 20th through August 27th. The 51st Annual GMA Dove Awards will air exclusively on TBN (Trinity Broadcasting Network) on Friday, October 30th at 7pm CT.
Joel Smallbone, one half of for KING & COUNTRY, shares in a statement:
"With all that humanity has faced in 2020 it seems music, and particularly music with hope and God laced through it, is more needed and timely than ever. Luke and I find it humbling to be part of bringing these thoughts and ideas to the world through our songs, and send our gratitude to the Gospel Music Association for recognizing ours, and some many of our peers, efforts to encourage, build up and unite."
for KING & COUNTRY, comprised of brothers Joel & Luke Smallbone, has been celebrating the success of its latest single "TOGETHER" (feat. Kirk Franklin & Tori Kelly), as it currently holds the top spot on both Billboard and Mediabase Christian Airplay charts. This is for KING & COUNTRY's seventh No. 1 on Billboard's Christian Airplay chart, and fourth consecutive No. 1 hit for multiple weeks at Christian radio following the multi-week success of previous singles "joy.," "God Only Knows," and "burn the ships." Listen to the track, which has already accumulated over 14.2 million on-demand streams, here.
Tonight, for KING & COUNTRY joins music's biggest names – including Brad Paisley, Jason Mraz, Keith Urban, and Tim McGraw – to support St. Jude Children's Research Hospital for a virtual festival called Music Gives: Together #forStJude at 5 p.m. ET. Viewers can tune in and watch on Facebook, YouTube, Instagram and TikTok with additional announcements on Twitter.
Joel and Luke will kick off Ryman Auditorium's first-ever livestream concert series 'LIVE AT THE RYMAN' tomorrow, August 14, bringing exclusive livestream performances to fans at home while paving the way for the safe return of in-person music experiences at the iconic venue. The duo is slated to perform at 8 pm CDT. Tickets are on sale to the public now, click here.
for KING & COUNTRY Upcoming Dates
August 13, 5pm ET (Faith Stage) – Music Gives Together for St Jude Livestream Event
August 27 – Stride Bank Center – Enid, OK*
August 28 – Heart of Oklahoma Expo – Shawnee, OK*
August 28, 7:30pm CT – Unite to Fight Poverty with Compassion, World Vision, and Food for the Hungry Livestream Event
August 29 – Ford Park – Beaumont, TX*
September 4 – A Rush of Hope by Harvest Livestream Event
September 24, 6pm CT – Nashville Rescue Mission Celebration of Hope Livestream Event
* – drive-in concert
About for KING & COUNTRY
Four-time GRAMMY® award-winning Australian duo for KING & COUNTRY, comprised of brothers Joel & Luke Smallbone, have released a new chart-topping hit "TOGETHER" – a song about the strength of unity in the face of adversity. Earlier in 2020, in response to the COVID-19 pandemic, the duo hosted the critically acclaimed livestream event "TOGETHER: A Night of Hope" to over 2.5 million viewers across all social media platforms. After collaborating with renowned entertainer Dolly Parton to release a version of the duo's 11-week No. 1 hit "God Only Knows" in 2019, the duo won two 2020 GRAMMY® awards. "God Only Knows" (with Dolly Parton) won in the Contemporary Christian Music Performance/Song category, and their 3rd studio album, burn the ships, won a GRAMMY® in the Contemporary Christian Music Album category. for KING & COUNTRY graced the CMA stage to perform "God Only Knows" with the incomparable Dolly Parton at the CMA awards, and they performed their unique and powerful rendition of "Little Drummer Boy" at CMA Country Christmas, receiving national critical praise for both. They have garnered seven No. 1 hits, ten Top 10 hits, six GRAMMY® nominations, three Billboard Music Award Nominations, an American Music Award nomination, and had songs featured on the Emmys, Super Bowl, Sunday Night Football and other high-profile events. National television performances include Good Morning America, The Tonight Show, TODAY, Jimmy Kimmel Live!, The View, CMA Awards, and CMA Country Christmas. The duo's burn the ships | world tour has SOLD-OUT over 40 shows across the world including USA, Australia, Germany, Netherlands, and New Zealand. In total, for KING & COUNTRY has accumulated nearly 1 Billion on-demand streams.
About Curb | Word Entertainment
In 2016, Curb Records acquired Word Entertainment, combining two of the music industry's most respected brands, and more than a century of collective experience. Today, Curb and Word are two of the world's leading independent music companies. Owned and operated by Mike Curb, the Curb | Word family includes the labels Curb, Word, Squint, Fervent, Sidewalk, MCC and IVAV, as well as Curb Publishing, Word Publishing, 25 Live, Curb Films, Word Films, Word Entertainment, and Curb Sports, representing top artists and entertainers in Country, Christian, Pop, Rock, and Hip-Hop. For more information, visit www.curb.com.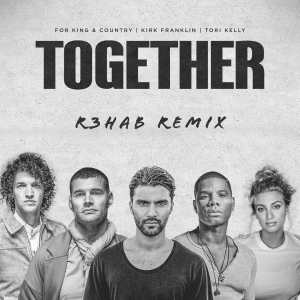 https://www.youtube.com/watch?v=lR1Hk0FVi_k