Bold, boundary-breaking single sets the stage for upcoming debut album, "The Perhaps Existence of Andreas Moss"
Nashville, TN (September 4, 2020) — Andreas Moss unveils a new sound with the pop-rap single, "Minivan," the first release from the genre-bending songwriter's debut album, The Perhaps Existence of Andreas Moss.
Released on 9/4 (with an accompanying video due out on 9/10), "Minivan" puts an unexpected spin on the "party in your car" hip-hop motif. "Don't need no Lamborghini, don't need no Maserati, 'cause we know how to party," Moss raps, before serving up drinks in the common man's version of a luxury vehicle: a minivan. Written and recorded during a two-hour burst of inspiration, "Minivan" isn't just a celebration of the Average Joe's right to party; it's also a celebration of Moss' own sexual liberation.
The out-and-proud gay artist previously released chart-topping Christian music under the name Jonathan Thulin, before embracing his queerness and modifying his artistic approach. As Andreas Moss, he blurs the lines between genres while proudly filling his music with narratives that don't shy away from his own sexuality. A pioneering mix of pop hooks, rapped verses, sung melodies, and R&B swagger, The Perhaps Existence of Andreas Moss celebrates Moss not only as a bold new force in pop music, but also as a new voice for queer culture.
"I'm entering an era that's brand new to me!" says Moss, a dual citizen who was born in Sweden and grew up touring internationally with his family's gospel group. "I didn't see many guys rapping and singing about other guys growing up. It's my hope that a song like 'Minivan' is catchy enough so people who are straight or gay can listen to it and realize it's a dope song. I'm gay, and I've listened to people sing about straight relationships my entire life. I love those songs. I connect to them. I think someone who's straight can still connect to a song like 'Minivan.'"
Since signing with Curb Records and releasing his first single as Andreas Moss in 2016, the songwriter has racked up a string of milestones that are every bit as diverse as his music, including features in Billboard and Clash Magazine, shows with Juicy J and Andy Grammer, placements in Spotify playlists like "Global Viral 50" and "New Music Friday," and more than 70 million streams worldwide. Moss has also established himself as an in-demand writer for other artists, penning songs by Pitbull, NF, Vic Mensa, BTS, and many more. "Minivan" continues that momentum and shifts the direction a bit, with Andreas Moss now driving down a lane that's uniquely his own.
"These songs are a love letter to my community — the gay community — but also a love letter to everyone," he says. "If you're different and feel like you don't belong, you do belong. You belong with me."
About Andreas Moss:
Swedish singer-songwriter Andreas Moss is part of the new vanguard of queer artists attempting to deconstruct the pop panorama. Born Jonathan Thulin, Andreas' journey to becoming a queer pop force did not come without a significant amount of reflection. Now splitting time between Nashville and Los Angeles, Andreas split time between Sweden and the U.S. since age three, part of a traveling missionary family steeped in music and preaching across the country in an RV. Getting his start as a Christian artist, Andreas faced an internal struggle with his own queerness.
"I was teased so much in church," he recounts. "As a Christian artist I did really well; five years ago I was onstage and realized I hated myself.  I fell off the map and started doing Pop music." Since that moment, he's embraced his queerness and crafted Pop music tinged by Gospel training. Andreas' music has been featured in the likes of Billboard, Wonderland, and Clash Magazine and appeared on some of Spotify's most notable playlists, including "Global Viral 50" and "New Music Friday", amassing 70M+ streams worldwide. He's also cut his teeth on the road opening for Juicy J, Andy Grammar, and Fetty Wap on tour and made a name for himself as a cross-genre songwriter.
This in-between life informs his aptly-named forthcoming album The Perhaps Existence of Andreas Moss. A proclamation of his queerness and an exploration of genres, Andreas has crafted a work that teeters the borders of Trap, Pop, R&B and Soul.
 With The Perhaps Existence of Andreas Moss, the singer is speaking himself into an existence as an out-and-proud gay man making the music he wants to make.
 Andreas has been deeply inspired by Black music in his new record's sound and throughout his career from early song "Chakha Khan" and citing Beyoncé and Destiny's Child as inspirations. "I was only allowed to listen to Christian music growing up; since then, I have been so influenced my entire life by Black artists," he says. "It's such a big part of why I sing the way that I do. I am working toward an industry of love and acceptance and non-competitiveness that actually celebrates artists and being different."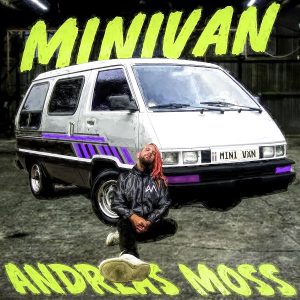 Minivan (Explicit Version) (Single)
 About Curb Records:
In 2018, Curb Records joined forces with Word Entertainment to form Curb | Word Entertainment, combining two of the music industry's most respected brands and more than a century of collective experience. Today, Curb | Word Entertainment is one of the world's leading independent music companies.  Owned and operated by Mike Curb, the company includes label imprints Curb Records, Word Records, Squint Entertainment, Fervent, Sidewalk Records and IVAV representing top artists in Country, Christian, Pop, Rock and Hip-hop music, Curb | Word Music Publishing, 25 Live, Curb Films, Word Films, Word Entertainment and Curb Sports.