Fans Will Determine Set Lists In Real Time for 28-City Live Stream Concert Trek
Continuing to break new ground with first-of-its-kind technology and out-of-the-box creativity, Curb | Word Entertainment's Sidewalk Prophets announces "The Chosen Tour," a live stream concert outing that will hit 28 cities this fall. Fans will have the rare opportunity to determine the band's set list in real time for each date, ensuring every show is completely unique. Although each concert will broadcast to a different city and a different set of fans each night, Sidewalk Prophets will perform every show live from their warehouse in Nashville.
With "The Great Big Family" in mind, the group debuted their innovative live stream platform earlier this year when COVID-19 pressed pause on live events and large gatherings. Named for the band's current single, "The Chosen Tour" follows the unprecedented success of Sidewalk Prophets' first live stream concert run, "The Virtual Album Experience," which took their latest album, The Things That Got Us Here, directly to more than 25,000 viewers in 32 cities.
Ticket options for "The Chosen Tour" range from $14.99 for Single Household Tickets to $49.99 for Large Group Tickets, perfect for watch parties and youth groups. In addition, a VIP Pre-Show Party option is available for $39.99, featuring zoom access prior to the show and an autographed poster. As previously offered on "The Virtual Album Experience" tour, out-of-radius passes and season passes, which give fans access to all 28 shows, are also available for purchase.
A full list of dates and cities are below. For tickets and more information, visit www.sidewalkprophets.com.
"The Chosen Tour" Dates:
Oct. 6 — Wichita, KS
Oct. 7 — Cheyenne, WY
Oct. 8 — Madison, WI
Oct. 11 — Lynchburg, VA
Oct. 13 — Terre Haute, IN
Oct. 14 — Kingsburg, CA
Oct. 15 — Chattanooga, TN
Oct. 18 — Toledo, OH
Oct. 20 — Virginia Beach, VA
Oct. 21 — Philadelphia, PA
Oct. 22 — Tulsa, OK
Oct. 25 — Little Hocking, OH
Oct. 27 — Springfield, MA
Oct. 28 — Columbus, OH
Oct. 29 — Winston Salem, NC
Oct. 30 — Omaha, NE
Nov. 4 — Columbia, MO
Nov. 5 — Houston, TX
Nov. 6 — Colorado Springs, CO
Nov. 7 — Grand Rapids, MN
Nov. 10 — Nashville, TN
Nov. 11 — South Bend, IN 
Nov. 12 — Barre, VT 
Nov. 13 — Myrtle Beach, SC
Nov. 17 — San Diego, CA
Nov. 18 — Traverse City, MI
Nov. 19 — Orlando, FL
Nov. 20 — Peoria, IL
*All dates and cities subject to change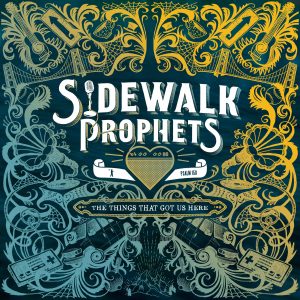 Track Listing
1. Intro (Smile)
2. Smile
3. Chosen
4. Where Forgiveness Is
5. Real To Me
6. Don't You Think It's Time
7. You Were There
8. I Believe It Now
9. Let Go Your Troubles
10. There's A Way
11. Thank you Jesus
12. Don't Sweat It
13. The Comment Section
14. The Light
15. Smile (Single Mix)
About Sidewalk Prophets:
With a career spanning three major label studio releases—These Simple Truths (2009), Live Like That (2012) and Something Different (2015), plus 2013's celebrated holiday offering, Merry Christmas To You—and multiple hits, including Gold-certified "The Words I Would Say," "You Love Me Anyway" and "Live Like That," among others, Sidewalk Prophets remains a mainstay at Christian radio. The Dove Award-winning band has amassed more than 204 million career on-demand streams and sold more than 875,000 in equivalent album sales, and 1.86 million digital tracks. In addition, the group has garnered five No. 1 songs, nine Top 5 radio singles and more than 47 million views on YouTube. The band originally formed at Indiana's Anderson University, and since signing with Curb | Word Entertainment, they've been nominated for a Billboard Music Award, multiple K-LOVE Fan Awards and four Dove Awards, taking home the New Artist of the Year Dove in 2010. Over the course of their career, they've played for more than 2.5 million fans, and counting. Known for spending more days on the road than anywhere else, Sidewalk Prophets' most recent tours have morphed into interactive experiences for their fans, whom they affectionately call "The Great Big Family." The band hosted the first free public concert in Ryman history on July 9, 2020, previewing new music from their highly-anticipated album, The Things That Got Us Here, available now (July 3, 2020).
About Curb | Word Entertainment:
In 2016, Curb Records acquired Word Entertainment, combining two of the music industry's most respected brands, and more than a century of collective experience. Today, Curb and Word are two of the world's leading independent music companies. Owned and operated by Mike Curb, the Curb | Word family includes the labels Curb, Word, Squint, Fervent, Sidewalk, and IVAV, as well as Curb Publishing, Word Publishing, 25 Live, Curb Films, Word Films, Word Entertainment, and Curb Sports, representing top artists and entertainers in Country, Christian, Pop, Rock, and Hip-Hop.