New single blurs boundaries between modern pop, beat-driven R&B, and 21st century soul
 Versatile pop-soul artist Wyn Starks turns a new page with his newest track, "Split in Two." Released today, the song builds a bridge between the throwback sounds that filled Wyn's earlier releases — including the Motown-flavored "Dancing My Way" and the show-stopping retro ballad "Circles" — and the genre-bending grooves of modern-day pop music. The result is a thoroughly contemporary track about a failing relationship, punctuated with R&B swagger, anthemic hooks, blasts of brass, and a dancefloor-worthy beat.
"I've been on both sides of a relationship like that, where you feel like you're giving so much of yourself while the other person doesn't give as much in return," says Wyn, who co-wrote "Split in Two" with Jason Walker and producer Josh Bronleewe. "Maybe you stay because you love them, or maybe you leave, but there's still a piece of them that goes with you. Whichever side you're on, you feel split."
A progressive artist who's never been afraid to shine a light on his musical roots, Wyn Starks kicked off his solo career with "Circles," a nostalgic song that pitted his elastic vocals against a backdrop of sweeping strings and timeless chord progressions. Released in 2019 by Sidewalk Records, a division of Curb Records, "Circles" racked up more than half a million streams on Spotify, including landing on Spotify's Retro Pop Playlist and Today's Top Pop Hits. Rather than replicate the song's old-school vibe on his follow-up releases, though, Wyn stretched his musical legs, digging deep into his gospel and soul roots for the popular "Sunday Morning" and thoroughly modernizing his sonic approach with "Split in Two."
"I've always loved incorporating the sounds I grew up with into the music I'm making now," says Wyn. "Fans have already heard a piece of me with songs like 'Sunday Morning' — songs that were inspired by the music I loved as a child — but that's just one side of me. 'Split in Two' is exciting because it's an introduction to a more contemporary side. It's a bridge between two worlds, connecting the throwback vibe of what I've already released with the contemporary sound of what I'm working on now."
"Split in Two" is available on all DSPs, along with songs like "Circles," "Sunday Morning," "Dancing My Way," and Wyn's version of the holiday classic "Have Yourself a Merry Little Christmas." For more information on Wyn Starks, visit www.wynstarks.com.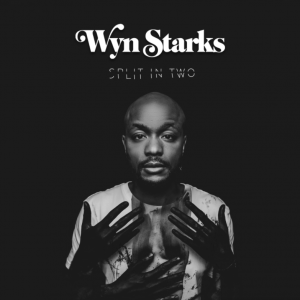 Listen to "Split in Two" HERE.
About Wyn Starks:
A modern-day pop-soul pioneer, Wyn Starks builds a bridge between the old-school sounds that filled his childhood — from the soulful sweep of Motown classics to the bright sparkle of '80s hitmakers like Whitney Houston and Michael Jackson — and the grooves, hooks, and genre-bending bounce of contemporary radio. It's a sound that celebrates not only the multi-octave range of his vocals, but also the power of his songwriting. From the retro ballad "Circles" to the dancefloor-worthy banger "Split in Two," Wyn has cemented his reputation as a progressive artist who hasn't forgotten his roots.
Raised in Minneapolis, Wyn sang his first solos in church. The soaring power of gospel music took ahold of him at a young age, as did the pop songs and soul classics that he'd listen to at home, hidden from the rest of the world behind his family's couch, headphones pressed to his ears. Wyn began creating music of his own — music that made room for the wide range of his influences while also pushing forward into unexplored territory. Looking for a town whose music community was as diverse as his art, he headed to Nashville, signing a record deal with Curb Records during his first six months in town.
Partnering with producer and co-writer Fred Williams, Wyn introduced his sound to the world with singles like "Circles," "Dancing My Way," and "Sunday Morning." He then teamed up with Josh Bronleewe for 2020's "Split in Two," a song whose modern bounce helped build a bridge between the throwback appeal of Wyn's early work and the progressive punch of his newer releases.
 About Curb Records:
In 2018, Curb Records joined forces with Word Entertainment to form Curb | Word Entertainment, combining two of the music industry's most respected brands and more than a century of collective experience. Today, Curb | Word Entertainment is one of the world's leading independent music companies.  Owned and operated by Mike Curb, the company includes label imprints Curb Records, Word Records, Squint Entertainment, Fervent, Sidewalk Records and IVAV representing top artists in Country, Christian, Pop, Rock and Hip-hop music, Curb | Word Music Publishing, 25 Live, Curb Films, Word Films, Word Entertainment and Curb Sports.