Lee Brice Hits Career Milestone Holding the #1 Spot for Three-Week Consecutive Run on Billboard Chart and Two-Week Consecutive Run on Mediabase with "One of Them Girls"
Curb Records recording artist, Lee Brice, brings his latest single, "Memory I Don't Mess With" to radio today. The song, written by Brice, Brian Davis and Billy Montana off his upcoming album Hey World, reflects on those powerfully evocative memories we all carry with us that are sometimes best left untarnished in the past.
LISTEN:   "Memory I Don't Mess With"
"It's about exactly what it says. It's one of those memories, it's one of those things that you can't let yourself get too close to because it just pulls you in too deep," says Brice. "The memory's always there. The pictures are always there in your head. But that's the one you've gotta let alone, and let just be a memory."
Hey World, available on November 20th, is already proving to be a career milestone project for Brice who is currently sitting at the #5 spot on iTunes Top Songs Chart (all-genres) and is #1 on iTunes Country Top Songs with his hit single, "One of Them Girls." The song also marks Brice's first single to sit at the #1 spot on the Billboard Country Chart for three consecutive weeks and also achieving a consecutive two-week run leading the Mediabase Chart.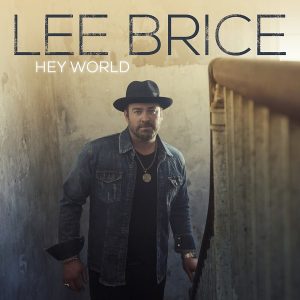 HEY WORLD TRACK LISTING:
"Atta Boy"
"One of Them Girls"
"More Beer"
"Memory I Don't Mess With"
"Save The Roses"
"Good Ol' Boys"
"Don't Need No Reason"
"Do Not Disturb"
"Soul"
"Sons and Daughters"
"Country Knows"
"Lies"
"If You"
"I Hope You're Happy Now (with Carly Pearce)"
"Hey World" (featuring Blessing Offor)
Brice has 11 consecutive RIAA single certifications along with multiple gold and platinum albums, has taken 8 radio singles to number one, performed as part of the Library of Congress Gershwin Prize for Popular Song honoring Garth Brooks in 2020, and is just getting started. The ACM and CMA Award winner, and GRAMMY nominee, is in the middle of a record-breaking career run with his latest album, Hey World, and shows no signs of slowing down. Hey World is available everywhere on November 20th.
For additional information on Lee Brice, please visit:
Website
Instagram
Facebook
Twitter
About Lee Brice
When current CMA and CMT Music Award-nominated and Curb Records recording artist, Lee Brice, isn't selling out arenas, writing and recording songs, or building new brands like American Born whiskey, you'll find the family man with his wife Sara, two young boys, and daughter. Meanwhile, with over 2.3 billion on-demand streams, and three billion spins on Pandora, Brice continues to enjoy massive success at country radio, digital streaming services, and on the road. He is currently #1 at Country Radio with his fastest rising single career to date, "One of Them Girls," which follows his #1 with Carly Pearce on "I Hope You're Happy Now" and his #1 just prior to that, "Rumor," which was nominated in the category Single of The Year at the 55th Annual ACM Awards. One of the most-played country artists of all time on Pandora, he is a member of the company's "Billionaires Club," becoming only the second country artist behind Keith Urban to receive the Pandora Billionaire plaque. Lee is also a GRAMMY nominee, a CMA and ACM award winner, and he's taken eight radio singles to Number One: "A Woman Like You," "Hard to Love," "I Drive Your Truck," "I Don't Dance," "Drinking Class," "Rumor," "I Hope You're Happy Now," and "One Of Them Girls." Garth Brooks, Jason Aldean, Kenny Chesney and others have recorded his songs, and he's performed on numerous TV shows, including NBC's Today, ABC's The Bachelor, NBC's The Voice and FOX's Miss USA 2018. Lee performed as part of the Library of Congress Gershwin Prize for Popular Song honoring Garth Brooks, aired on PBS March of 2020.
About Curb Records
Celebrating 56 years in business, Curb Records is one of the world's leading independent music companies. Owned and operated by Mike Curb since 1964, Curb Records has achieved 435 number one records, over 1,500 hundred Top Ten records and charted over 4,500 total records. With over a half century in operation, Curb Records has been influential in the careers of some of the biggest names in music, including: Tim McGraw, Hank Williams, Jr., Rodney Atkins, Lee Brice, LeAnn Rimes, The Judds, Dylan Scott, Sawyer Brown, Wynonna, Lyle Lovett, Jo Dee Messina, Hal Ketchum and Desert Rose Band, among many others. Today's roster includes some of the top names across multiple genres of music. For more information, visit www.curb.com.