The Official "Fuego Remix (Feat. Shaggy)" Video also Tops 1 Million YouTube Streams! 
In less than 10 weeks, the song catches fire and lights up the World with its hip-hop and Caribbean beat hitting over 92 countries!
House sensation R3HAB unites with Steven Malcolm on the "Fuego Remix (Feat. Shaggy)"
OFFICIAL VISUALIZER STREAMING NOW AT YOUTUBE
"Fuego sees Shaggy bringing a Caribbean spice to the otherwise gritty and hard-hitting song, furthering Malcolm's quest to meld American swagger and Caribbean heat." – Celeb Mix
"Steven Malcolm is Michigan's best kept secret. Sonically, the Grand Rapids wordsmith's tonal versatility is unmatched, spotlighting his affinity for uptempo production, while also reaffirming his Jamaican lineage with a reggae undertone." – Dirty-Glove
"A multicultural hip-hop artist, Steven Malcolm's songs are grounded in faith, fiercely-delivered rhymes, and a willingness to blur the lines between genres." – Ghettoblaster Magazine
Nashville, Tenn. (October 12, 2020) – Hip-hop artist Steven Malcolm ignited Summer 2020 with the Caribbean-tinged "Fuego Remix" featuring GRAMMY®-winning reggae/dancehall superstar Shaggy. Together, Steven and Shaggy added depth to the fiery single, but global electronic powerhouse R3HAB elevates it even more with a brand-new remix.
R3HAB deepens the song's groove and enhances its dance-floor appeal. "R3HAB took a hit record and turned it into the good ol' days, back when clubs in Miami were packed with people ready to have a great time and dance to great tunes," says Steven. The collaboration has 1 million streams through Spotify in the week since its release, which improves Steven's resume that includes multiple award nominations and more than 41 million on-demand streams across all DSPs. The remix is featured on the Dance Pop Hits Spotify Playlist.
"Fuego" (R3HAB Remix)" marks the first collaboration between Steven and the Dutch-Moroccan DJ, who has remixed songs by superstars Lady Gaga, Rihanna, Steve Aoki, and The Chainsmokers. R3HAB's bombastic style amplifies Shaggy's show-stopping guest verse in his distinctive patios accent. The song equally matches the spirit of the original remix. It also expands Steven's growing collection of genre-blending smash recordings.
The song is featured on several influential Spotify playlists such as DJ 100, R3HAB Night, and EDM House | Ibiza. "The R3HAB remix is nothing short of a contagious head bop," adds Steven.
"Fuego" (R3HAB Remix)" is available now across all DSPs. For updates and more information about Steven Malcolm please refer to the social media links below.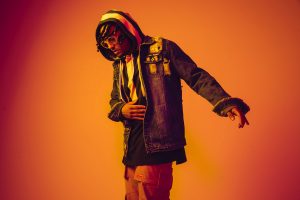 STREAM: LINK
WATCH: LINK
About Steven Malcolm:
A multicultural hip-hop artist, Steven Malcolm's songs are grounded in fiercely-delivered rhymes and a willingness to blur the lines between genres. It's an approach that's earned the songwriter five award nominations, more than 41+ million on-demand streams, and an audience that's just as diverse as his own influences, bridging the gap between the worlds of commercial rap, pop, and reggae. He released an independent album, Monsters Ink, and signed a deal with Word Entertainment, becoming the first rap artist on the label's roster. If Monster's Ink turned Steven into hip-hop's newest up-and-comer, then Steven Malcolm — his self-titled, major-label debut — established him as a commercial juggernaut, with songs like "Hot Boy" and the pop-rap tune "Party in the Hills" becoming hits. He continued crystallizing his sound with 2019's The Second City, a hard-hitting, lyrically-driven record that focused on messages of hope, redemption, and ambition. Both albums feature tracks produced by Social House's Scootie (Ariana Grande, Meghan Trainor, Jennifer Lopez, Chris Brown). "Fuego" highlighted Steven's Jamaican roots and reggae influences (both of which would be showcased again in 2020, when he teamed up with Shaggy for the larger-than-life "Fuego Remix"). From his cinematic music videos to his diverse, hard-driving music, Steven Malcolm continues making art that breaks boundaries and inspires listeners to become better versions of themselves.
 About Curb Records:
In 2018, Curb Records joined forces with Word Entertainment to form Curb | Word Entertainment, combining two of the music industry's most respected brands and more than a century of collective experience. Today, Curb | Word Entertainment is one of the world's leading independent music companies. Owned and operated by Mike Curb, the company includes label imprints Curb Records, Word Records, Squint Entertainment, Fervent, Sidewalk Records and IVAV representing top artists in Country, Christian, Pop, Rock and Hip-hop music, Curb | Word Music Publishing, 25 Live, Curb Films, Word Films, Word Entertainment and Curb Sports.  For more information, visit www.curb.com