America's Oldest Brewery® partners with Lee Brice as it kicks off its 'Stars & Stripes' program to support our nation's military, featuring fan sweepstakes, special performances, and more
D.G. Yuengling & Son, Inc., America's Oldest Brewery®, announces today its partnership with Lee Brice, American country music singer and songwriter and Curb Records recording artist, and the start of Yuengling's Stars & Stripes program.
Lee will serve as an official Brand Ambassador for Yuengling Traditional Lager. The partnership with Lee includes a variety of elements including personal appearances and performances on behalf of the brand, fan meet & greets, special promotions to meet Lee, a chance to win custom Yuengling and Lee swag, social media sweepstakes and giveaways, in-store point of sale support, social media content and support of our nation's military.
"I am thrilled to team up with a family-owned brewery and serve as a brand ambassador for their Stars & Stripes program," said Lee. "Spending time with my family, supporting our troops and enjoying a nice, cold beer are three things I love in life, so you could say this is the best of three worlds."
The partnership also officially launches Yuengling's Stars & Stripes program, which is dedicated to supporting our nation's military through Team Red, White & Blue (Team RWB), whose mission is to enrich the lives of America's veterans through the nation's largest veteran health and wellness community.
Together, Yuengling and Lee will support Team RWB through special cans and packaging, in-store point of sale support and many more fan-centric activations throughout 2021. Both Yuengling and Lee are historic avid supporters of the troops. Thus, this new partnership will serve to make a positive impact and show appreciation to our nation's military.
"As America's Oldest Brewery, we are thankful and proud of the brave and dedicated men and women who have made tremendous sacrifices to protect our country's freedom, honor, and independence," said Wendy Yuengling, Chief Administrative Officer and 6th generation family member, D.G. Yuengling & Son, Inc. "Lee's commitment and devotion to our nation's heroes embodies the patriotism of the Stars & Stripes program. Our partnership and the launch of our Stars & Stripes program demonstrates both our commitments to providing meaningful assistance for military members and their families during this challenging time."
Yuengling plans to announce more exciting initiatives related to the Stars & Stripes program and its partnership with Lee throughout 2021, including his recently released hit song, "More Beer." Follow Lee on Instagram (@LeeBrice) all year for exciting announcements and fan opportunities.
For more information about Yuengling and for a glimpse into how America's Oldest Brewery is going bigger and bolder with more innovation in 2021, follow our Facebook page (https://www.facebook.com/Yuengling), follow us on Twitter (https://twitter.com/Yuengling_Beer) and Instagram (https://www.instagram.com/yuenglingbeer/) or visit www.Yuengling.com.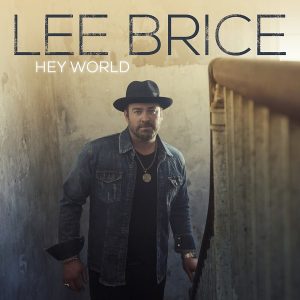 Hey World
Track Listing
1. Atta Boy
2. One Of Them Girls
3. More Beer
4. Memory I Don't Mess With
5. Save The Roses
6. Good Ol' Boys
7. Don't Need No Reason
8. Do Not Disturb
9. Soul
10. Sons And Daughters
11. Country Knows
12. Lies
13. If You
14. I Hope You're Happy Now (with Carly Pearce)
15. Hey World (with Blessing Offor)