New Song and Lyric Video Available Now
MCC/Curb Records recording artist Jackson Michelson lets music heal a broken heart on "Tip Jar," available today (3/26). Listen to the feel-good track HERE. In addition, the official lyric video for the song also premieres today. Watch the unique, eye-catching visual, directed by Brian Shutters, HERE.
"Tip Jar" reveals the Corvallis, Oregon native doling out cash to keep the hits playing post-breakup, name-checking both Tom Petty and Bon Jovi in the second verse. In an attempt to hide a heartbreak from friends and erase old memories with his former flame, he turns the music up to 11 and takes a stranger out for a spin across the dance floor.
The initial concept for the fresh track was a long time in the making, but once Michelson finally put pen to paper, the words and melodies flowed easily. "'Tip Jar' was one of those songs that wrote itself," Michelson shares. "I had the title in my phone for three years and wasn't sure how to approach it lyrically. Then one day I woke up, and while I was waiting to write a song on Zoom, it clicked and came together quickly. I really feel like 'Tip Jar' is one of the most 'me' songs I've released. In 2021, we need music more than ever, especially fun music. 'Tip Jar' is exactly that for me."
Michelson originally teased a portion of the demo for "Tip Jar," which he co-wrote with Patrick Mencel and Justin Morgan, on Instagram last fall. The song serves as his first release of 2021 and follows more than 15 million career on-demand streams and his latest version of "One Day," which gave the singer the opportunity to collaborate with his longtime musical hero, Collin Raye. Last year, Michelson was also featured on for KING & COUNTRY's "TOGETHER (The Country Collaboration)" with Curb Records' Hannah Ellis.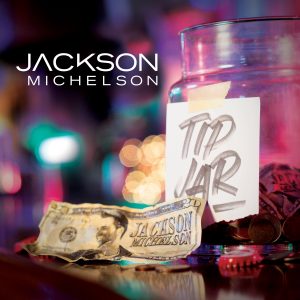 Stream or purchase "Tip Jar" HERE. For more information, visit www.jacksonmichelson.com.
About Jackson Michelson:
Curb Records recording artist Jackson Michelson's previous releases and powerful arrangements have been praised for "staying atop the beat to drive it through to the end" (Taste of Country). The promising rising star grew up in the "Grass Seed Capital of the World," Corvallis, Oregon, listening to the sounds of his mother's favorite country songs and father's soul. Always looking up to his older brother who toured as a Christian artist, Michelson joined him on the road to help sell merch while taking everything in and making a to-do list all his own. After returning home with an undeniable fire lit inside of him, Michelson started playing in bands throughout his hometown while writing songs that balanced high-energy hooks with good-natured storylines. Songs like "The Good Life" have been embraced by many and earned the support of SiriusXM's The Highway, which helped Michelson reach new fans across the country. Before he knew it, his schedule was filled with over 200 shows a year including opening slots for Blake Shelton, Lee Brice, Frankie Ballard, and more. Looking ahead, Michelson is excited for the next chapter of his 'good life' – one he's built himself, show by show, and song by song – with new cities to play, songs to be written and opportunities to explore. Michelson's single, "Stay Over," was premiered by Billboard, who noted the video highlighted Michelson's "distinct brand of country and rock influences," and featured his "captivating vocals." "Stay Over" was penned by Michelson, Jeff Pardo (Ben Rector, Francesca Battistelli) and Molly Reed Grayson (Danielle Bradbery, Marie Osmond), and co-produced by Pardo and Jim Ed Norman (Dylan Scott, Kenny Rogers). Jackson's single, "One Day (feat. Collin Raye) features one of his biggest idols. His most recent release, "Tip Jar," is available now.
About MCC/Curb Records:
Celebrating 57 years in business, Curb Records is one of the world's leading independent music companies. Owned and operated by Mike Curb since 1964, Curb Records has achieved 435 number one records, over 1,500 Top Ten records and charted over 4,500 total records. With over a half century in operation, Curb Records has been influential in the careers of some of the biggest names in music, including: Tim McGraw, Hank Williams, Jr., Rodney Atkins, Lee Brice, LeAnn Rimes, the Judds, Dylan Scott, Sawyer Brown, Wynonna, Lyle Lovett, JoDee Messina, Hal Ketchum and Desert Rose Band, among many others. Today's roster includes some of the top names across multiple genres of music. For more information, visit www.curb.com.