New Single from Russian-American Band of Brothers Offers Diverse Sound for Divided World
  Curb | Word Entertainment recording artist Saint Nomad responds to the modern moment with "Stay," a stirring single whose messages of empathy and open communication are driven home by thumping beats, buzzing keyboards, and a dancefloor-worthy arrangement that summons the feet as well as the heart. Listen to "Stay" HERE.
"Stay" is a pop song with a benevolent mission, delivered by three brothers — Nikita, Ruslan, and Yan Odnoralov — who were raised to value open-mindedness. Born in Russia, the siblings moved to America as political refugees in 1996 and grew up between two worlds, with school courses taught in English and household conversations conducted in Russian. Along the way, they learned to reach across the aisle, creating their own culture inspired by their diverse roots and wide-ranging interests. Songs like "Stay" reflect that unique identity, mixing organic instruments, electronic soundscapes, and cinematic alt-pop hooks into the same package.
"'Stay' was written as our anthem in response to the division we're seeing in our culture and in our country," explain the Odnoralovs, who co-wrote the song with producer Daniel James (Hayley Williams' FLOWERS for VASES / descansos, Judah & the Lion's Pep Talks) and John Luke Ellis. "It seems like people are increasingly being pitted against each other, and we just want to foster love, understanding, and mutual respect. There's nothing more powerful than truly loving people where they are at."
Released in the wake of singles like "Nothing To Lose," "How Much Longer," and "Heart On Drugs," "Stay" continues Saint Nomad's longtime practice of blending electronic music with organic elements. It's an extension of the mentality Nikita, Ruslan, and Yan developed as children — a song that blurs the boundaries between different genres — and its sound dovetails with its inclusive message.
"We want people to be honest, express themselves, and still know that we can be family and friends," the band says. "And we're going to stay that way."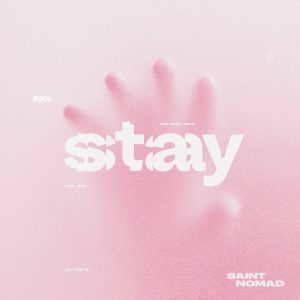 "Stay" is available HERE now.
About Saint Nomad:
Saint Nomad is an alt-pop band of brothers who grew up on the road, performing more than 150 shows annually for a decade. Born in Russia and raised in America, siblings Nikita, Ruslan, and Yan Odnoralov introduced Saint Nomad's genre-bending mix of organic instruments, electronic soundscapes, and larger-than-life melodies with 2018's Memento Mori. The debut album was written and produced by the brothers themselves, featuring cinematic tracks like "Only Thing" (featured in advertisements for Netflix's 13 Reasons Why), "El Dorado," and "Rain in Paris." Since Memento Mori's release, Saint Nomad has further expanded its nuanced, textured sound with digital singles like "Nothing To Lose" and "Better Off," both of which were recorded in collaboration with 3x Grammy-winning producer Jacquire King (Kings of Leon, James Bay). While the brothers work on another full-length album, Saint Nomad's music continues to earn fans at home and abroad, racking up more than 2.1 million on-demand streams and 1 million views on YouTube.
 About Curb | Word Entertainment
In 2016, Curb Records acquired Word Entertainment, combining two of the music industry's most respected global brands, and more than a century of collective experience. Today, Curb and Word are two of the world's leading independent music companies. Owned and operated by Mike Curb, the Curb | Word family includes the labels Curb, Word, Squint, Fervent, Sidewalk, MCC and IVAV, as well as Curb Publishing, Word Publishing, 25 Live, Curb Films, Word Films, Word Entertainment, and Curb Sports, representing top artists and entertainers in Country, Christian, Pop, Rock, and Hip-Hop. For more information, visit www.curb.com.