Nashville, Tenn. (April 16, 2021) — Curb Records recording artist Filmore remembers who he "Used To Be" in a new song, out today (4/16). Listen to the new track HERE.
On the new track "Used To Be," Filmore looks back at a love that made him a better man. "'Used To Be' is a song that pulls from my high school and college days. It definitely touches on my hometown more than a lot of my music recently and touches on breakups from my past," the Wildwood, Missouri native shares. "I think after a long relationship with someone, you can miss who you were with that person, especially right after things end and you're trying to figure out who you are after them. You're always going to miss that version of yourself just a little bit, but hopefully, you get better as you move forward in life."
The singer/songwriter is set to release more new music in the coming months. In the meantime, he's slowly making his way back out on the road for select safe, socially distant shows. On Labor Day weekend, Sept. 3-6, 2021, he'll join Brett Young's Caliville Weekend lineup in Palm Springs. Earlier this month, Filmore played a set at the Clay County Fair in Florida. On Mar. 5, he returned to Ballpark Village in St. Louis for a limited-capacity show on the Fox Sports Midwest Live! stage as part of "Hot Country Nights: Homegrown Series," presented by 92.3 WIL, at the home of the St. Louis Cardinals. Filmore headlined the same concert series in February 2020 with a full band and a sold-out, full-capacity crowd right before the pandemic shuttered live events.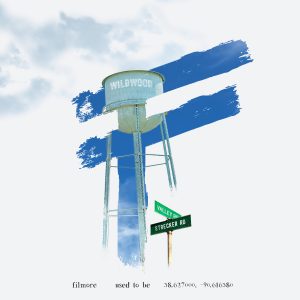 "Used To Be"—which Filmore co-wrote with Geoff Warburton, Brandon Day and Andy Albert—follows last month's release of fresh track "Good Thing." (Watch the official lyric video for "Good Thing" HERE.).
Stream or purchase "Used To Be" HERE. For more information, visit www.filmoremusic.com.
About Filmore:
"Groundbreaking" is just one word that can begin to describe Curb Records recording artist Filmore, a Wildwood, Missouri native, who now calls Nashville home. With over 175 million on-demand streams, appearances on NBC's "TODAY" and The Bobby Bones Show, the singer/songwriter has honed his electric and engaging live show by opening for artists such as Sam Hunt, Blake Shelton, Carrie Underwood, Dan + Shay, Lauren Alaina, and Pitbull; and has rocked performances at Stagecoach, Watershed, CMA Fest and Country Thunder. Song releases like "Slower," "Love That About You," and "Other Girl" are resonating with fans thanks to unprecedented streaming boosts, as prior to being signed, Filmore was the first independent artist to be featured on Spotify's Hot Country cover. Filmore's new radio single, "Nothing's Better," impacted at Country Radio on 2/16/21. For more information, visit filmoremusic.com or follow online @filmoremusic.
About Curb Records:
Celebrating 57 years in business, Curb Records is one of the world's leading independent music companies. Owned and operated by Mike Curb since 1964, Curb Records has achieved 435 number one records, over 1,500 Top Ten records and charted over 4,500 total records. With over a half century in operation, Curb Records has been influential in the careers of some of the biggest names in music, including: Tim McGraw, Hank Williams, Jr., Rodney Atkins, Lee Brice, LeAnn Rimes, The Judds, Dylan Scott, Sawyer Brown, Wynonna, Lyle Lovett, Jo Dee Messina, Hal Ketchum and Desert Rose Band, among many others. Today's roster includes some of the top names across multiple genres of music. For more information, visit www.curb.com.