Four-time GRAMMY® award-winning duo and Curb | Word Entertainment recording artist for KING & COUNTRY took home multiple honors at the 2021 K-LOVE Fan Awards, hosted at Nashville's iconic Grand Ole Opry House. Through fan votes, for KING & COUNTRY was named Artist of the Year as well as Group / Duo of the Year, becoming the artist with the most K-LOVE Awards at thirteen total honors.
Joel Smallbone, one half of for KING & COUNTRY, shares in a statement:
"Seeing the K-LOVE Fan Awards return after a year's hiatus and reuniting with so many familiar faces felt like the great first step back into the live collaborative music world. And I must say, the Grand Ole Opry House was electric.
Our heartfelt appreciation to our music-listener-family for taking the time to vote. Being the 2021 recipients of the Artist of the Year and Group / Duo of the Year awards is a greater and deeper encouragement than ever before. We're thrilled to be stepping into these better days together and look forward to sharing new music with you later this year."
The news of today's wins marks another milestone for the platinum-selling duo in 2021, who were previously nominated for two 2021 Billboard Music Awards. Earlier this year, for KING & COUNTRY celebrated the RIAA Gold certification of their third studio album, Burn The Ships, and released a deluxe version featuring contributions from Dolly Parton, Timbaland, and more. To kick off 2021, for KING & COUNTRY dazzled ABC's Good Morning America on New Year's Day with a performance of their No. 1 hit single "joy."
Burn The Ships has since propelled the duo to five straight No. 1s, including the platinum "God Only Knows," and holiday classic "O Come, O Come Emmanuel (feat. NEEDTOBREATHE)." Currently, for KING & COUNTRY's single "Amen" from Burn The Ships is No. 4 on Billboard's Christian Airplay chart and No. 8 on the Hot Christian Songs chart. Burn The Ships continues to sit in the Top 10 on Billboard's Top Christian Albums chart, slotting in at No. 7 and spending an impressive 138 weeks on the chart.
About for KING & COUNTRY
for KING & COUNTRY is one of the music industry's most respected and decorated duos. Brothers Joel and Luke Smallbone have won four GRAMMY Awards, seven GMA Dove Awards, a Billboard Music Award, 13 K-LOVE Fan Awards, and their eight No. 1 songs have produced an astonishing accumulation of over one billion on-demand streams. The RIAA Platinum-selling act's live show has been hailed as a must-see concert event that continues to wow sold-out crowds whether in the U.S.A, Australia, Germany, Netherlands, or New Zealand. for KING & COUNTRY'S most recent album, the RIAA Gold-certified Burn The Ships debuted in the Top 10 of the Billboard Top 200 Album Chart and has since propelled the duo to five consecutive No. 1 songs including "joy.," "TOGETHER (feat. Kirk Franklin & Tori Kelly)," and the 11-week platinum smash "God Only Knows." The global hitmakers have collaborated with a diverse list of artists including the legendary Dolly Parton, NEEDTOBREATHE, and Timbaland, amongst others. Joel and Luke Smallbone are committed to numerous philanthropic efforts focused on human trafficking, children in need, as well as numerous programs in support of the arts.
About Curb | Word Entertainment
In 2016, Curb Records acquired Word Entertainment, combining two of the music industry's most respected brands, and more than a century of collective experience. Today, Curb and Word are two of the world's leading independent music companies. Owned and operated by Mike Curb, the Curb | Word family includes the labels Curb, Word, Squint, Fervent, Sidewalk, MCC and IVAV, as well as Curb Publishing, Word Publishing, 25 Live, Curb Films, Word Films, Word Entertainment, and Curb Sports, representing top artists and entertainers in Country, Christian, Pop, Rock, and Hip-Hop. For more information, visit www.curb.com.
Photo Credit: Mitchell Schleper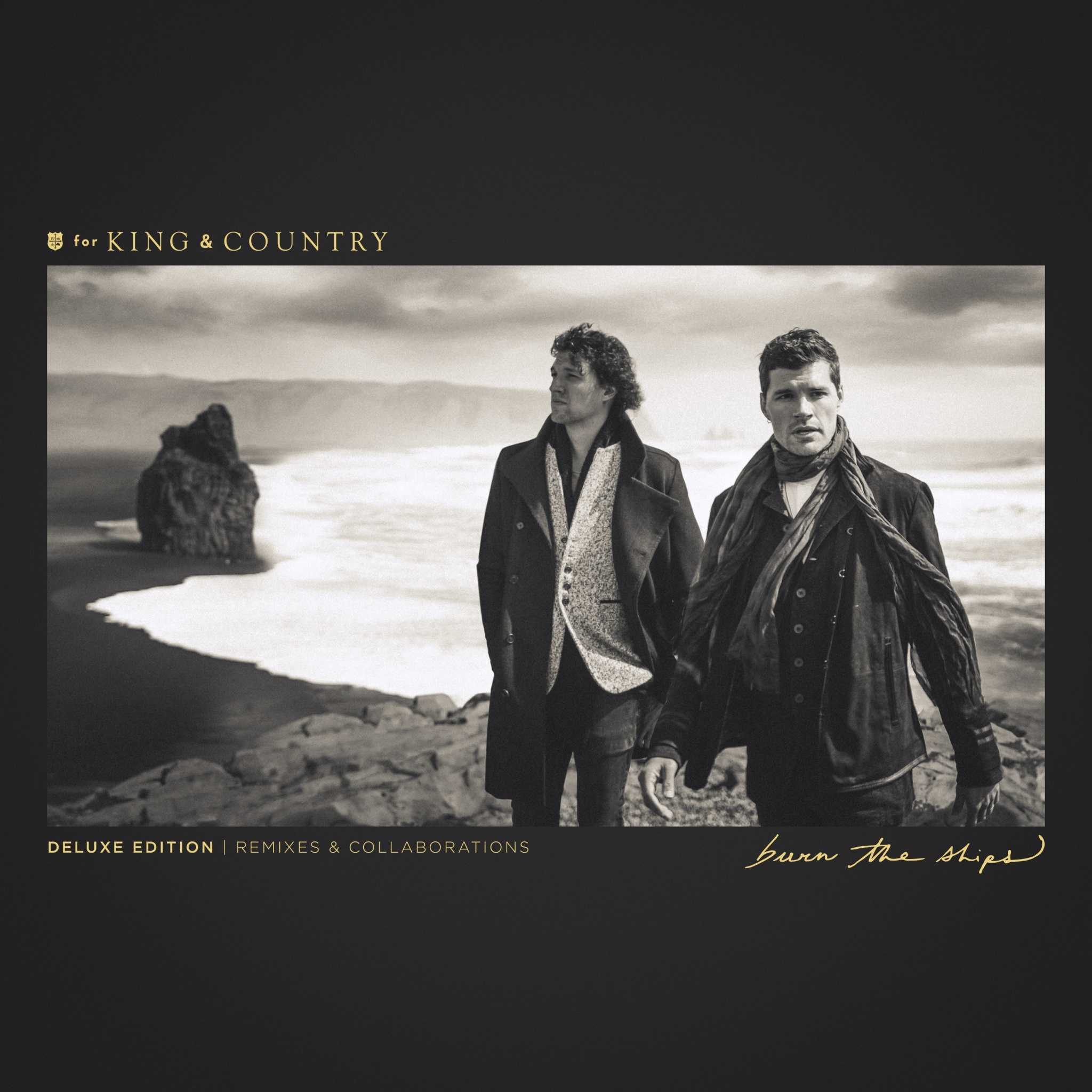 Burn The Ships (Deluxe Edition: Remixes & Collaborations)
Track Listing
1. Introit
2. joy.
3. God Only Knows
4. Amen
5. Burn The Ships
6. TOGETHER (feat. Kirk Franklin & Tori Kelly)
7. Fight On, Fighter
8. Need You More
9. Control
10. Never Give Up
11. Hold Her
12. Pioneers (feat. Moriah & Courtney)
13. Amen (Reborn) [feat. Moriah & Courtney)
14. God Only Knows (feat. Dolly Parton)
15. Fight On, Fighter (Theatrical Remix)
16. joy. (Shadow Piano Remix)
17. God Only Knows (Timbaland Remix) [feat. Echosmith)