Collaborative Duet Features Vocals from Latin-Inspired Pop Artist Melanie Pfirrman
Sidewalk Records recording artist Wyn Starks continues to savor the moment with "Not a Waste (feat. Melanie Pfirrman)," shortly after releasing the propulsive pop single "Linger." Listen to the new track HERE.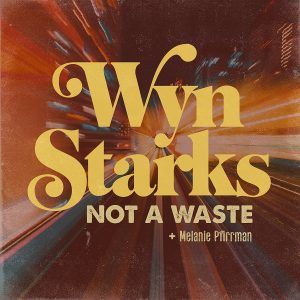 A summer-friendly anthem about relationships, resilience, and the benefits of staying together, "Not a Waste (feat. Melanie Pfirrman)" begins with electric guitars and finger-snapped grooves before blossoming into a cathartic mix of synthesizers, acrobatic vocal runs, and thick harmonies. Driving home the song's themes of partnership and teamwork are several collaborators, including co-writer Nana Adjoa, co-writer/producer Ruslan Odnoralov, and guest vocalist Melanie Pfirrman.
"Melanie is one of my favorite vocalists and people," Starks says. "She brought the song to another level. I first heard her part on the track when I was driving my car and I nearly crashed! It blew my mind."
On a track filled with guest appearances and sparkling production, it's Starks who steals the show. He's an elastic vocalist and boundlessly enthusiastic performer, having already amassed more than 1.5 million streams for his single "Circles." He's set to continue that trend with "Not a Waste (feat. Melanie Pfirrman)," whose optimistic message coincides with the country's reemergence after a uniquely challenging year.
"It's a song about just riding through the rough times with that special person," he explains. "You realize through the ups and downs and the rocky times that it's not a waste. You're going to reach a place where you have learned each other and know each other so well. It doesn't make problems or confrontation disappear, but you know those things that make that person happy, sad, and everything in between and you still love them regardless."
There's a lot to love about Starks. A Nashville resident whose music reaches far beyond the town's southern roots, he bridges the gap between old-school R&B and modern-day pop, with lyrics that focus on love, acceptance, and inclusion. The title track of his newest EP, Who I Am, was featured in a recent episode of American Idol, broadcasting Starks' sound to millions of fans nationally. Fiercely unique, Starks is proof that following one's unique muse is, indeed, not a waste.
"Not a Waste (feat. Melanie Pfirrman)" is now available HERE.
About Wyn Starks
A modern-day pop-soul pioneer, Wyn Starks builds a bridge between the old-school sounds that filled his
childhood — from the soulful sweep of Motown classics to the bright sparkle of '80s hitmakers like Whitney Houston and Michael Jackson — and the grooves, hooks, and genre-bending bounce of contemporary radio. It's a sound that celebrates not only the multi-octave range of his vocals, but also the power of his songwriting. From the retro ballad "Circles" to the dancefloor-worthy banger "Split in Two," Wyn has cemented his
reputation as a progressive artist who hasn't forgotten his roots.
Raised in Minneapolis, Wyn sang his first solos in church. The soaring power of gospel music took ahold of him at a young age, as did the pop songs and soul classics that he'd listen to at home, hidden from the rest of the world behind his family's couch, headphones pressed to his ears. Wyn began creating music of his own —
music that made room for the wide range of his influences while also pushing forward into unexplored territo-ry. Looking for a town whose music community was as diverse as his art, he headed to Nashville, signing a record deal with Curb Records during his first six months in town.
Partnering with producer and co-writer Fred Williams, Wyn introduced his sound to the world with singles like "Circles," "Dancing My Way," and "Sunday Morning." He then teamed up with Josh Bronleewe for 2020's "Split in Two," a song whose modern bounce helped build a bridge between the throwback appeal of Wyn's early work and the progressive punch of his newer releases.
About Curb Records
Celebrating 57 years in business, Curb Records is one of the world's leading independent music compa-nies. Owned and operated by Mike Curb since 1964, Curb Records has achieved 435 number one records, over 1,500 Top Ten records and charted over 4,500 total records. With over a half century in operation, Curb Rec-ords has been influential in the careers of some of the biggest names in music, including: Tim McGraw, Hank Williams, Jr., Rodney Atkins, Lee Brice, LeAnn Rimes, The Judds, Dylan Scott, Sawyer Brown, Wynonna, Lyle Lovett, Jo Dee Messina, Hal Ketchum and Desert Rose Band, among many others. Today's roster in-cludes some of the top names across multiple genres of music. For more information, visit www.curb.com.