Romantic Ballad, "We'll Be," Available Today (6/11)
On Tour With Brett Young This Fall
Nashville, Tenn. (June 11, 2021) — Curb Records recording artist Filmore shares personal track, "We'll Be," with fans today (6/11). The Wildwood, Missouri native pledges forever on the special song he penned more than a year ago specifically for the moment when he proposed to his girlfriend of three years, Paige.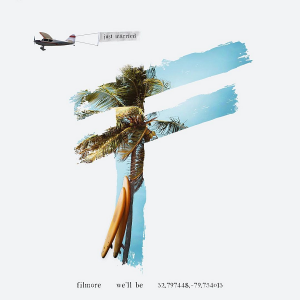 Listen to new release, "We'll Be," HERE.
Filmore wrote the descriptive track with Mitchell Tenpenny and Michael Whitworth on the same back porch where he got down on one knee.
"The song is about meeting your forever person, and that can be a very relatable thing to a lot of people," Filmore offers. "I also put a lot of specific details in the song like driving to Charleston to ask my wife's dad if I could marry her, our porch swing on the front porch and drinking sweet tea, and waking up in a king size bed together. All of these little details are super special to me, and the song seemed to work because she said 'yes.'"
The couple was married in an intimate ceremony last October in Isle of Palms, South Carolina, on the same beach where Paige's parents were engaged 32 years prior. PEOPLE shared exclusive details on the couple's engagement and wedding.
The newlyweds are featured together in Filmore's official visualizer for carefree track "Who Cares," which released last month. On Monday, the prolific lyricist performed a set of unreleased songs live from the Gibson Garage in Nashville. This fall, he'll return to the road as a special guest on Brett Young's "The Weekends Tour," also featuring Maddie & Tae and Ryan Hurd. A full list of dates and cities are below.
Stream or purchase "We'll Be" HERE. For more information, visit www.filmoremusic.com.
Upcoming Filmore Tour Dates
June 19 – Rhythm & Brews // Prescott Valley, AZ
August 13 – Grand Casino Hinckley // Hinckley, MN
August 20 – Iowa State Fair // Des Moines, IA
September 5 – Caliville Weekend With Brett Young // Los Angeles, CA
September 9 – Mars Music Hall // Huntsville, AL
September 10 – Druid City Music Hall // Tuscaloosa, AL
October 14 – Country Thunder Arizona 2021 // Florence, AZ
Filmore on Brett Young's "The Weekends Tour"
September 16 – Richmond, VA
September 17 – Youngstown, OH
September 18 – Lewiston, NY
September 23 – Cary, NC
September 24 – Baltimore, MD
September 25 – Portland, ME
October 1 – Saratoga, CA
October 2 – Avila Beach, CA
October 3 – San Diego, CA
October 5 – Phoenix, AZ
October 28 – Milwaukee, WI
October 29 – Cincinnati, OH
October 30 – Grand Rapids, MI
November 4 – Kansas City, MO
November 5 – Peoria, IL
November 6 – Detroit, MI
November 11 – Bethlehem, PA
November 12 – Uncasville, CT
November 13 – Atlantic City, NJ
November 19 – St. Augustine, FL
November 20 – Boca Raton, FL
About Filmore:
"Groundbreaking" is just one word that can begin to describe Curb Records recording artist Filmore, a Wildwood, Missouri native, who now calls Nashville home. With over 183 million on-demand streams and appearances on NBC's "TODAY" and The Bobby Bones Show, the singer/songwriter has honed his electric and engaging live show by opening for artists such as Sam Hunt, Blake Shelton, Carrie Underwood, Dan + Shay, Lauren Alaina, and Pitbull; and has rocked performances at Stagecoach, Watershed, CMA Fest and Country Thunder. Song releases like "Slower," "Love That About You," and "Other Girl" are resonating with fans thanks to unprecedented streaming boosts, as prior to being signed, Filmore was the first independent artist to be featured on Spotify's Hot Country cover. Filmore's new radio single, "Nothing's Better," impacted at Country Radio on 2/16/21. For more information, visit filmoremusic.com or follow online @filmoremusic.
About Curb Records:
Celebrating 57 years in business, Curb Records is one of the world's leading independent music companies. Owned and operated by Mike Curb since 1964, Curb Records has achieved 435 number one records, over 1,500 Top Ten records and charted over 4,500 total records. With over a half century in operation, Curb Records has been influential in the careers of some of the biggest names in music, including: Tim McGraw, Hank Williams, Jr., Rodney Atkins, Lee Brice, LeAnn Rimes, The Judds, Dylan Scott, Sawyer Brown, Wynonna, Lyle Lovett, Jo Dee Messina, Hal Ketchum and Desert Rose Band, among many others. Today's roster includes some of the top names across multiple genres of music. For more information, visit www.curb.com.