Country music star, Lee Brice, is honoring recent Rock & Roll Hall of Fame inductee, Lionel Richie, with his Amazon Original cover of Richie's iconic hit, "Hello," which is available now on Amazon Music.
"First off, this is some of the most fun I've ever had in the studio," remarked Lee Brice. "Although it was daunting to think about following in the footsteps of an icon like Lionel Richie, it was such an honor to be asked. I am incredibly humbled and excited at the same time. This song is such a timeless classic, and breaking it down to go re-record it, I realized even more why it is so special. Honestly, I'm still nervous. I just hope he likes it!"
Airing this Saturday, November 19th at 8pm ET on HBO and HBO Max, The Rock & Roll Hall of Fame 2022 Induction Ceremony will feature guests including Sheryl Crow, Robert Downey, Jr., Dr Dre, Lenny Kravitz, Olivia Rodrigo, Sara Bareilles, Bruce Springsteen and more, all highlighting the importance and influence of the 2022 Inductees.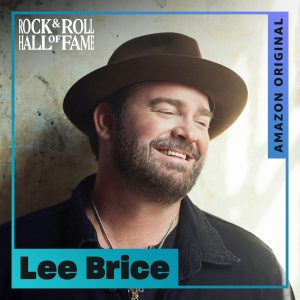 About Lee Brice:
When Curb Records recording artist, Lee Brice, isn't selling out arenas, writing and recording songs, or building new brands like American Born whiskey, you'll find the family man with his wife Sara, two young boys, and daughter. Meanwhile, with over 3.7 billion on-demand streams, and over 3.6 billion spins on Pandora, Brice continues to enjoy massive success at country radio, digital streaming services, and on the road. He recently reached #1 at Country Radio with Platinum-selling "Memory I Don't Mess With," which consecutively follows three prior #1s: ASCAP's 2021 Country Song of the Year and 3x Platinum track "One of Them Girls," "I Hope You're Happy Now" with Carly Pearce, and "Rumor," which was nominated in the category Single of The Year at the 55th Annual ACM Awards. One of the most-played country artists of all time on Pandora, he was the second country artist behind Keith Urban to receive the Pandora Billionaire plaque. Lee is also a GRAMMY nominee, a CMA and ACM award winner, and he's taken nine radio singles to Number One: "A Woman Like You," "Hard to Love," "I Drive Your Truck," "I Don't Dance," "Drinking Class," "Rumor," "I Hope You're Happy Now," "One of Them Girls," and "Memory I Don't Mess With." Garth Brooks, Jason Aldean, Kenny Chesney and others have recorded his songs, and he's performed on numerous TV shows, including NBC's Today, ABC's The Bachelor, NBC's The Voice and FOX's Miss USA 2018. Lee performed as part of the Library of Congress Gershwin Prize for Popular Song honoring Garth Brooks, aired on PBS March of 2020. At the 54th Annual CMA Awards, Lee took home the prize for Musical Event of the Year for his song with Carly Pearce, "I Hope You're Happy Now." At the 56th ACM Awards, "I Hope You're Happy Now" won Single of the Year and Music Event of the Year, and Lee and Carly Pearce performed the song live. Lee's latest album, Hey World, features current radio single "Soul."
For additional information on Lee Brice, including upcoming tour dates, please visit: