Continues On His "Tin Roof Tour" Next Month
Nashville, Tenn. (January 27, 2023) — Newly signed Curb Records artist Kelsey Hart catches a buzz with his new song, "6-Pack Gone," out today (1/27). Listen to the fresh breakup track HERE and watch the lyric video HERE.
Sipping on a goodbye, Hart counts down the memories and the regrets one beer at a time on "6-Pack Gone" as he wills himself to admit the cold hard truth: The girl he loves is as good as gone. Written by Hart, Mason Thornley and Joe Clemmons, and produced by Tommy Cecil and Matt Alderman, the song is the singer/songwriter's first release since he officially inked a deal with Curb Records as announced earlier this week.
Ahead of "6-Pack Gone," the fine-tuned lyricist dropped two original songs — a personal tribute to a loved one gone far too soon on "Forget To Remember You" and a tender reflection on legacy and the often unspoken lessons we teach our children on "My Daddy's Fault."
Since landing his first gig at 19 as the lead singer of a local country band, Hart has diligently cultivated his passion for country music and honed his craft as a deft songwriter. After garnering his first album cut in 2017, Hart became an in-demand collaborator when he moved to Nashville, where he quickly established himself as a sought-after co-writer, vocalist and artist on the rise. Hart's songs have been recorded by Jake Owen, Dylan Scott and Trace Adkins, among others.
The newcomer will bring his original music to select cities in February as he continues his "Tin Roof Tour" with upcoming stops in Columbia, S.C. (Feb. 9), Raleigh, N.C. (Feb. 10) and Myrtle Beach, S.C. (Feb. 11).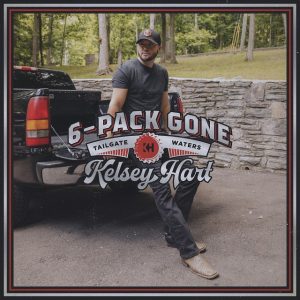 Stream or purchase "6-Pack Gone" HERE. For more information, follow Kelsey Hart on Instagram @kelseyhartmusic.
 About Kelsey Hart:
Having his publishing deal for only two years at Curb | Word, Kelsey Hart has already secured his place among the best and brightest in the songwriting community, penning songs for hitmakers such as Jake Owen, Dylan Scott and Trace Adkins. In addition to landing outside cuts, he has begun releasing his own material, which has independently amassed nearly 4 million streams through a small handful of tracks. His debut EP, Give You Mine, marked Hart's official foray into the artist spotlight, a place he's dreamed of being since his childhood days of belting Gospel music from the passenger seat in his dad's truck. Following the introduction of this new music, Kelsey continues to write and listen among Nashville's best with sights on his first full album release. Hart released "My Daddy's Fault" November 4, 2022, and will release his latest single, "6-Pack Gone," on January 27, 2023.
About Curb Records:
Celebrating 59 years in business, Curb Records is one of the world's leading independent music companies. Owned and operated by Mike Curb since 1964, Curb Records has achieved 435 number one records, over 1,500 Top Ten records and charted over 4,500 total records. With over a half century in operation, Curb Records has been influential in the careers of some of the biggest names in music, including: Tim McGraw, Hank Williams, Jr., Rodney Atkins, Lee Brice, LeAnn Rimes, The Judds, Dylan Scott, Sawyer Brown, Wynonna, Lyle Lovett, Jo Dee Messina, Hal Ketchum and Desert Rose Band, among many others. Today's roster includes some of the top names across multiple genres of music. For more information, visit www.curb.com.