NASHVILLE, Tenn. (January 27, 2023) – Jo Dee Messina announced today that Heads Carolina, Tails California: The Best of Jo Dee Messina will be released in March on Curb Records. The album features 11 of her timeless hits, including "Bye, Bye," "I'm Alright," "Lesson In Leavin,'" "Heads Carolina, Tails California" and more. This marks Messina's first-ever vinyl release on a limited-edition, 180 gram clear vinyl with wisps of color throughout – mirroring the artist's authentic and colorful personality. The project will be available on March 10 and can be pre-ordered here: https://jodeemessina.lnk.to/BestOf
"It's amazing to look back over a catalog and have so many songs with so many memories attached," said Messina. "Now, to have them come out on vinyl? Wow! It's a new way to hold those memories. It's very exciting!"
Jo Dee Messina's illustrious catalog – which includes nine Number One hits and 16 Top 40 smashes – has racked up more than 700 million on-demand streams and millions of albums sold with multiple RIAA certifications. She's enjoyed a major resurgence over the past few years as the '90s country craze has swept the nation, paving the way for a big year in 2023.
Messina had a monumental 2022, selling out multiple venues and breaking festival attendance records with her high-energy show. She wrapped up the year opening two shows for Country Music Hall of Famer, Reba McEntire, and the packed arena crowds sang along to every word of Messina's timeless hits. Watch a highlight here: lnk.to/jo-dee-rebaPR. For more info and to purchase tickets, please visit jodeemessina.com/tour.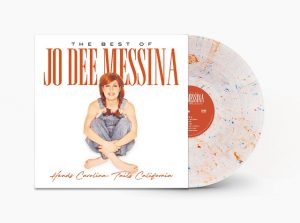 Heads Carolina, Tails California: The Best of Jo Dee Messina
1. "Heads Carolina, Tails California" (Tim Nichols, Mark D. Sanders)
2. "Bye-Bye" (Rory Bourke, Phil Vassar)
3. "I'm Alright" (Phil Vassar)
4. "Bring On The Rain" feat. Tim McGraw (Billy Montana, Helen Darling)
5. "My Give A Damn's Busted" (Joe Diffie, Tom Shapiro, Tony Martin)
6. "You're Not In Kansas Anymore" (Tim Nichols, Zack Turner)
7. "Lesson In Leavin'" (Randy Goodrum, Brent Maher)
8. "Stand Beside Me" (Stephen Allen Davis)
9. "Because You Love Me" (Kostas, John Scott Sherrill)
10. "That's The Way" (Annie Roboff, Holly Lamar)
11. "Burn" (Tina Arena, Steve Werfel, Pam Reswick)

About Jo Dee Messina

Jo Dee Messina is one of the most iconic country artists of the '90s and '00s and still has a reputation as one of the genre's most passionate, high-energy performers. In 1996, she kicked off her notable career with "Heads Carolina, Tails California," a single that immediately made her a household name. Following the success of her debut, Jo Dee posted nine No. 1 hits and sixteen Top 40 songs and has been recognized by the ACM Awards, CMA Awards and GRAMMY Awards. As Jo Dee's resumé grew, she proved to be a trendsetter and history-maker, becoming the first female in country music history to celebrate three consecutive multi-week, chart-topping songs. Over the years, Jo Dee has amassed over half a billion streams on Pandora, hundreds of millions of album and song streams on Spotify and Apple Music, and millions of views on YouTube. Her impressive listenership recently earned her acknowledgment for having one of the Top 20 country albums of the 1990s on Spotify. Additionally, her social media accounts are collectively followed by millions of fans. Jo Dee has been traveling the country for many years, receiving rave reviews for her authenticity, commitment and openness on stage. Hoping to inspire and enlighten fans from all walks of life with every step she takes, Jo Dee has made it her mission to present herself and her story with honesty, inviting fans to see behind the masquerade. For complete information and upcoming tour dates please visit www.JoDeeMessina.com and follow @jodeemessina on Instagram, TikTok and on Facebook.
Jo Dee Messina – Heads Carolina, Tails California (Official Music Video) – YouTube