Curb Records multi-Platinum selling artist, Lee Brice, has scored his first-ever Daytime Emmy Award nomination. The award-winning singer-songwriter appeared on the PBS Primetime series, American Anthems (produced by Believe Entertainment Group and NBCU), which honors everyday heroes who have overcome adversity and go on to make lasting positive impacts in their communities. His original song, "Pocket Change," written alongside long-time Curb songwriter Billy Montana, and Adam Wood, mirrors the inspiring story of Ashley Ruiz – a "hope dealer" that pays for laundry services in low-income communities.
"What can I say? I'm completely stunned," says Brice. "I never once thought I'd be an Emmy nominee! I had a great time working with 'American Anthems' and meeting such an inspiring person like Ashley really puts life and everything we take for granted into perspective. On behalf of myself, Billy and Adam, I just want to say thank you so much for this incredible recognition."
The Daytime Emmy Awards telecast will air live on June 16th on CBS and Paramount +.
For additional information on Lee's upcoming tour dates and tickets, please visit https://www.leebrice.com/#tour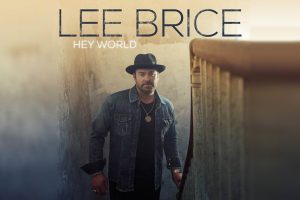 Track Listing
1. Atta Boy
2. One Of Them Girls
3. More Beer
4. Memory I Don't Mess With
5. Save The Roses
6. Good Ol' Boys
7. Don't Need No Reason
8. Do Not Disturb
9. Soul
10. Sons And Daughters
11. Country Knows
12. Lies
13. If You
14. I Hope You're Happy Now (with Carly Pearce)
15. Hey World (with Blessing Offor)
About Lee Brice:
When Curb Records recording artist, Lee Brice, isn't selling out arenas, writing and recording songs, or building new brands like American Born whiskey, you'll find the family man with his wife Sara, two young boys, and daughter. Meanwhile, with over 3 billion on-demand streams, and over 3.6 billion spins on Pandora, Brice continues to enjoy massive success at country radio, digital streaming services, and on the road. He recently reached #1 at Country Radio with "Memory I Don't Mess With," which consecutively follows three prior #1s: ASCAP's 2021 Country Song of the Year "One of Them Girls," "I Hope You're Happy Now" with Carly Pearce, and "Rumor," which was nominated in the category Single of The Year at the 55th Annual ACM Awards. One of the most-played country artists of all time on Pandora, he was the second country artist behind Keith Urban to receive the Pandora Billionaire plaque. Lee is also a GRAMMY nominee, a CMA and ACM award winner, and he's taken nine radio singles to Number One: "A Woman Like You," "Hard to Love," "I Drive Your Truck," "I Don't Dance," "Drinking Class," "Rumor," "I Hope You're Happy Now," "One of Them Girls," and "Memory I Don't Mess With." Garth Brooks, Jason Aldean, Kenny Chesney and others have recorded his songs, and he's performed on numerous TV shows, including NBC's Today, ABC's The Bachelor, NBC's The Voice and FOX's Miss USA 2018. Lee performed as part of the Library of Congress Gershwin Prize for Popular Song honoring Garth Brooks, aired on PBS March of 2020. At the 54th Annual CMA Awards, Lee took home the prize for Musical Event of the Year for his song with Carly Pearce, "I Hope You're Happy Now." At the 56th ACM Awards, "I Hope You're Happy Now" won Single of the Year and Music Event of the Year, and Lee and Carly Pearce performed the song live. Lee's latest album, Hey World, features current radio single "Soul" and received a 2022 Billboard Music Award nomination for "Top Country Album."