Reveals Orchestral Music Video for "Remnant"
Unveils Acoustic Sessions on YouTube with Stripped-Down Version of Mega-Hit "Suda," Streaming Now
Curb Records artist Melanie Pfirrman drops five-track R&B-forward EP, It's Not Gonna Kill You, today (5/26) — listen HERE. The fiery pop songstress holds co-writing credit on each selection that comprises the vibrant collection produced by Synematik, Andreas Moss, David Thulin and Ruslan Odnoralov. Pfirrman also drops the symphonic music video for the EP's fourth track, "Remnant" — watch the video HERE.
Empowered by the preeminent R&B female vocalists of her youth, Pfirrman leans heavily into her foundational influences on It's Not Gonna Kill You. "My heart has always been in that world. I grew up inspired by pop and R&B music from the late-'90s and early-2000s, like Brandy, Monica, Mariah Carey and Destiny's Child," the California native shares. "I've always loved the nostalgic feel of that music."
Pfirrman's latest project marries the unmistakable retro R&B of her adolescence with the defiantly modern sonic textures of today's pop — all held together by her jaw-dropping vocal execution. The EP is led by the previously released title-cut thematically centered around mental health — a track Pfirrman calls "the most important song I've ever been a part of." Written about her own bouts with anxiety, the bilingual singer even experienced a panic attack in the studio the day she recorded the personal selection.
In addition to the anchoring title track, the other four offerings on It's Not Gonna Kill You cover the complexities of love, relationships and heartbreak with reflective, regret-filled "Never Meant" featuring her friend and labelmate Wyn Starks, and advance track "Remnant" showcasing a cinematic power ballad mixed by renowned GRAMMY®-winning engineer Chris Lord-Alge. A complete tracklisting is below.
While Pfirrman opens a new chapter with It's Not Gonna Kill You, she's simultaneously revisiting some of her previous hits with a series of acoustic sessions she's set to unveil across her YouTube channel in the coming weeks. The first session is live with a stripped-down version of mega-hit "Suda" streaming now — watch HERE.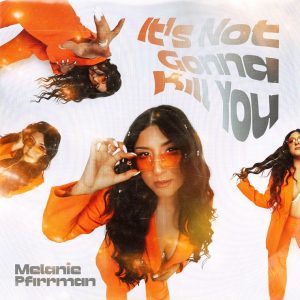 Stream or purchase It's Not Gonna Kill You HERE. For more information, visit www.melaniepfirrman.com.
It's Not Gonna Kill You Tracklisting:
"It's Not Gonna Kill You"
"Never Meant" (feat. Wyn Starks)
"Too Far Gone"
"Remnant"
"Favorite Kind of Love"
About Melanie Pfirrman:
From her multi-million-streaming duet with Latin superstar Pitbull to her pop-influenced R&B anthems, Melanie Pfirrman makes modern music that's diverse and driven. It's an adventurous sound that blurs the boundaries between genres and countries, created by a lifelong musician whose songwriting is every bit as powerful as her voice. Signed by Sidewalk Records in 2016, Melanie kickstarted her career with I Don't Wanna Love, an EP that yielded the Top 10 Radio Disney hit "Go Steady." Two years later, she widened her musical reach with "Suda," a steamy collaboration with hip-hop icon Pitbull and Grammy-winning producer IAmChino. Influenced by the multicultural mix of Spanish and American music that once filled her childhood home in California, "Suda" became a viral hit that introduced Melanie's music to international audiences. She followed its release with bilingual songs like "En Mis Tacones," which found her teaming up with singers Fanny Lu and Paty Cantú, and "Rosé," which mixed Cumbia grooves with tropical melodies. Reinventing herself once again, Melanie Pfirrman began refocusing her attention on another childhood influence: the timeless sounds of late-'90s and early-2000s R&B. Released in 2022, "It's Not Gonna Kill You" nodded to that deep well of inspiration, serving as the launchpad for a string of new, R&B-accented songs.
About Curb Records:
Celebrating 59 years in business, Curb Records is one of the world's leading independent music companies. Owned and operated by Mike Curb since 1964, Curb Records has achieved 435 number one records, over 1,500 Top Ten records and charted over 4,500 total records. With over a half century in operation, Curb Records has been influential in the careers of some of the biggest names in music, including: Tim McGraw, Hank Williams, Jr., Rodney Atkins, Lee Brice, LeAnn Rimes, The Judds, Dylan Scott, Sawyer Brown, Wynonna, Lyle Lovett, Jo Dee Messina, Hal Ketchum and Desert Rose Band, among many others. Today's roster includes some of the top names across multiple genres of music. For more information, visit
Melanie Pfirrman – "Suda" (Acoustic Studio Sessions) – YouTube