The Nikki Mitchell Foundation Celebrates 10th Anniversary of the Homecoming Golf & Concert 
(October 16, 2023 – Nashville, TN) Multi-Platinum and award-winning singer-songwriter, Lee Brice, helped to raise over $570,000 during a special appearance at the 10th Annual Homecoming Golf & Concert event hosted by The Nikki Mitchell Foundation. On October 8th, Brice took the stage at The Bowery in Myrtle Beach, SC alongside Jamey Johnson to help bring necessary funds and awareness to the organization's fight against pancreatic cancer. The evening surpassed its fundraising goal by bringing in $570,000 to the organization.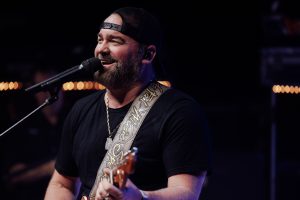 The Nikki Mitchell Foundation is dedicated to providing comfort and relief for those affected by pancreatic cancer, while raising supporting research that directly and indirectly affects pancreatic patients.
"The Nikki Mitchell Foundation is excited to have our 10th anniversary Homecoming Golf & Concert break the previous records. Lee Brice and his team did an amazing job for our pancreas patients. Our financial assistance programs will continue to allow patients access to potentially lifesaving treatments and peer to peer support. As Nikki used to say, 'I just felt my heart smile.'"
–Rhonda Miles, President of The Nikki Mitchell Foundation
To find out more information on The Nikki Mitchell Foundation and their mission, please visit their website at NMFCares.com.
For additional information on Lee Brice, including upcoming show dates, please visit LeeBrice.com.
About Lee Brice:
When Curb Records recording artist, Lee Brice, isn't selling out arenas, writing and recording songs, or building new brands like American Born whiskey, you'll find the family man with his wife Sara, two young boys, and daughter. Meanwhile, with over 3.7 billion on-demand streams, and over 4 billion spins on Pandora, Brice continues to enjoy massive success at country radio, digital streaming services, and on the road. He has reached the #1 spot at Country Radio with Platinum-selling "Memory I Don't Mess With," which consecutively follows three prior #1s: ASCAP's 2021 Country Song of the Year and 3x Platinum track "One of Them Girls," "I Hope You're Happy Now" with Carly Pearce, and the 4x Platinum hit "Rumor," which was nominated in the category Single of The Year at the 55th Annual ACM Awards. One of the most-played country artists of all time on Pandora, he was the second country artist behind Keith Urban to receive the Pandora Billionaire plaque. Lee is also a GRAMMY nominee, a CMA and ACM award winner, and he's taken nine radio singles to Number One: "A Woman Like You," "Hard to Love," "I Drive Your Truck," "I Don't Dance," "Drinking Class," "Rumor," "I Hope You're Happy Now," "One of Them Girls," and "Memory I Don't Mess With." Garth Brooks, Jason Aldean, Kenny Chesney and others have recorded his songs, and he's performed on numerous TV shows, including NBC's Today, ABC's The Bachelor, NBC's The Voice and FOX's Miss USA 2018. Lee performed as part of the Library of Congress Gershwin Prize for Popular Song honoring Garth Brooks, aired on PBS March of 2020. At the 54th Annual CMA Awards, Lee took home the prize for Musical Event of the Year for his song with Carly Pearce, "I Hope You're Happy Now." At the 56th ACM Awards, "I Hope You're Happy Now" won Single of the Year and Music Event of the Year, and Lee and Carly Pearce performed the song live. Lee's latest album, Hey World, has been certified Platinum and features current radio single "Save the Roses" which has amassed 19 million on-demand streams to date.