PACKED VALENTINE'S DAY SHOW IN NASHVILLE BENEFITs ACM LIFTING LIVES (2/14); CLOSES OUT COUNTRY RADIO SEMINAR 2019 (2/15)
LAUNCHES LAST WEEKEND OF HEADLINING NOTHING TO DO TOWN TOUR
NASHVILLE, TENN. (February 19, 2019) — Curb Records' DYLAN SCOTT continues to show his fast-rising star power, closing-out last week's Country Radio Seminar 2019 in Nashville, TN, as one of the applauded New Faces of Country Music® Class of 2019.
"Dylan Scott had the audience 'Hooked' from the beginning," hailed ABC News Radio, as his high-energy set spanned hits "Hooked," "My Girl" and his current chart-charger "Nothing To Do Town," while "highlighting his versatile influences" (Billboard). Adding in a stirring cover of his hero Keith Whitley's "Don't Close Your Eyes," All Access Music Group praised that it "left the country traditionalists in the room smiling."
Prior to Friday's (2/15) showcase, Scott packed Cannery Ballroom in Music City, as he dedicated his NOTHING TO DO TOWN TOUR stop to benefit ACM Lifting Lives on Valentine's Day (2/14). He was also surprised with a plaque presented by Live Nation's Alex Maxwell to celebrate six sold-out shows that launched the headlining trek last month. Starting back up Thursday night (2/21) at the House of Blues in Orlando, FL, Scott's NOTHING TO DO TOWN TOUR rolls through this weekend with a final show set for The Ritz in Raleigh, NC, on Sunday (2/24).
Beginning in May, Scott will return to the road on CHRIS YOUNG's RAISED ON COUNTRY TOUR 2019. Bringing brand new music from his anticipated NOTHING TO DO TOWN – EP (expected April 26) to the stage, find a full list of tour dates plus additional details here.
ABOUT DYLAN SCOTT:
Curb Records' hot rising star Dylan Scott is the total package – a powerful singer with a deep, resonating drawl; an old-soul songwriter with a young spirit; a heartthrob with an easy smile; and a dreamer who followed his father's footsteps to Nashville. Critics expect big things from his hometown anthem, "Nothing To Do Town," with Taste of Country dubbing his current chart-climbing single the "easiest radio hit of 2019." As Scott's NOTHING TO DO TOWN – EP is anticipated to drop on April 26, the Louisiana native is now headlining the NOTHING TO DO TOWN TOUR 2019 and set to join Chris Young's RAISED ON COUNTRY TOUR 2019 in May. Nominated for Best New Country Artist at the all-genre 2019 iHeartRadio Music Awards (3/14), Scott's streams surpass 585 million with sales topping 4 million, and he was named among Country Radio Seminar 2019's coveted New Faces of Country Music® Class of 2019. DYLAN SCOTT, his breakout album, delivered two consecutive Top 5 standouts with GOLD-certified "Hooked" and his first #1, PLATINUM-certified "My Girl."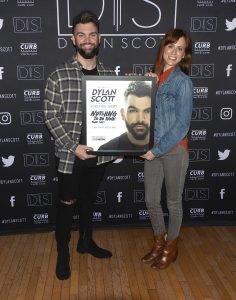 Photo Credit: RKPowersPhoto