OCALA, Fla. – To use an old timers expression, Tony Stewart cleaned house at Bubba Raceway Park Saturday night.
Stewart won his heat, the dash and the Ollie's Bargain Outlet All Star Circuit of Champions A-main on a track with more bite than a Florida alligator.
A short but heavy late afternoon rainstorm left the track and pit area a quagmire, leading some dozen teams to opt out of racing either because they expected the show to be cancelled or track conditions to be horrible.
The track crew went to work and produced a smooth, lightning fast surface for the 23 cars that eventually signed in for the finale of the three-night Winter Nationals series. Stewart's flag-to-flag run was closely observed by outside front row starter Lucas Wolfe, who chased the retired NASCAR star for the entire 30 laps.
"He beat me on the start, then in traffic he was driving away," said Wolfe. "I got a run on him into turn one on the final restart, but I couldn't cross him and that was that."
Paul McMahan hit the stripe third ahead of Mark Smith and Tim Shaffer.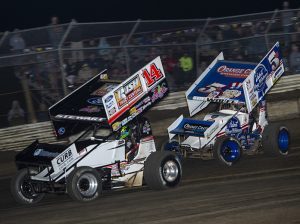 Tony Stewart (14) races ahead of Lucas Wolfe during Saturday's Ollie's Bargain Outlet All Star Circuit of Champions feature. (Chris Seelman Photo)
Stewart left in such a hurry on the start that he was out to more than a turn lead when he caught the back markers for the first time on lap three. A red flag on lap seven when Shane Golobic got caught up on the frontstretch and flipped brought Stewart back to the field, but when the green reappeared, it was the same story all over again.
He was in traffic again by lap 12 and just kept attacking the slower cars aggressively and extending his lead over Wolfe.
"I kept digging because I didn't need any pressure in traffic tonight. I screwed myself up the other night and gave a win away," said Stewart. "I figured I'd win it or lose it in traffic, so I kept looking ahead and getting where I had to be to lap a particular car the quickest.
"We knew the track would be really fast when it rained, so we were ready for it."
By halfway, the sixth-starting Smith was all over Shaffer for fourth, with Brock Zearfoss and Carson Short hustling to join the battle as well. Then Colby Wormer stalled with six to go, ruining Stewart's full straightaway lead. It also put him back in clean air and his pursuers in freight train formation, so the racing was effectively done except for Smith getting around Shaffer.
"This is what happens when Mother Nature rains on you," summed up McMahon, who was enjoying his best finish of the week. "It was a good night to start up front, because the track was narrow and fast. But we got it in."
Shaffer edged Cale Conley for fast time, with Stewart, Wolfe and Anthony Fiore sharing heat honors. Due to the short field, there was no B-main.
The finish:
Tony Stewart, Lucas Wolfe, Paul McMahan, Mark Smith, Tim Shaffer, Brock Zearfoss, Carson Short, Cale Conley, Bradley Howard, Danny Smith, Danny Dietrich, Anthony Fiore, Gary Kriess, George Hobaugh, Jim Shuster, Mallie Shuster, Colby Womer, Shane Stewart, Shane Golobic, Brandon Matus, Jeremy Hill, Max Stambaugh, Logan Schuchart, Jacob Allen.
February 3, 2019
By Ron Hedger
Cover Photo by Paul Arch
February 3, 2019